'Sopranos' star's son arrested for spray-painting swastikas on SUNY Purchase campus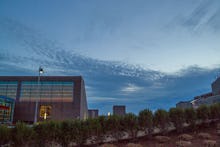 Vadim Imperioli, the son of Sopranos star Michael Imperioli, has been arrested for spray-painting swastikas on a SUNY Purchase dorm bulletin board on Nov. 20. According to the Journal News, the 19-year-old — who is possibly no longer a student at the college — is facing a charge of criminal mischief in the fourth degree for the vandalism. 
Purchase officials had launched an investigation into the anti-semitic graffiti on Nov. 21 in conjunction with investigation of a separate incident involving someone scrawling the words "Black Lives Don't Matter" elsewhere on campus. 
Imperioli is currently under investigation for an unrelated petit larceny charge for unauthorized use of a vehicle. When he appeared in court on Tuesday for the case, the judge referred to the swastika incident, noting that he had been involved in "criminal mischief since his last time in this court." The 19-year-old also previously served three years' probation in California for another instance of vandalism.
"He (now) has two open cases in this court," the assistant district attorney told the judge at Tuesday's hearing, according to the Journal News. "He has a disregard for the property of others."
Imperioli's crime comes during a time when it is difficult to view his vandalism as merely "disregard for the property of others." 
Following Donald Trump's presidential win, swastikas and hate speech have cropped up in parks, churches and college campuses across the United States.
In mid-November, students at William & Mary reported graffiti on a paper towel dispenser that said "Go Trump" with a swastika in place of the "T" in Trump. That same week, a student at Swarthmore College discovered a swastika scrawled on a gender-neutral bathroom stall in the school's library shortly after a Trans Day of Remembrance vigil. On Vassar College's campus, a student made an anonymous report to the school's Bias Incident Response Team after finding the words "Heil Trump" in the bathroom stall of an academic building. 
Imperioli, unfortunately, is not alone.