'ANTM' cycle 23 cast photos and bios released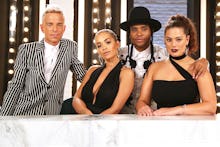 The countdown to the next season of America's Next Top Model is on, with only a few days left until the 23rd cycle. The rebooted series, which features a new host and is airing on a new channel, will begin Monday, Dec. 12 at 10 p.m. Eastern on VH1. Rita Ora will host the show, replacing Tyra Banks, the series' creator, original host and executive producer. 
Judges of the aspiring models vying for the show's title include plus-size model Ashley Graham, stylist Law Roach and Paper magazine creative officer Drew Elliott. The 14 contestants, who come from different walks of life, will compete in fashion-related challenges and photo shoots. 
Meet ANTM's cycle 23 cast.
Binta Dibba
Binta is 25 years old and from Seattle.
Cherish Waters
Cherish is a 25 years old and from Los Angeles.  
Cody Wells
Cody is a 27-year-old from San Jose, California. 
CoryAnne Roberts
CoryAnne is a 19-year-old from Bali, Indonesia. 
Courtney Nelson
Courtney is 25 years old and is from San Francisco. 
Giah Hardeman
Giah is a 21-year-old server and a part-time gymnastics coach from Bryan-College Station, Texas. 
India Gants
India is 20 years old and from Seattle. She works in marketing and promotions for a local radio station.
Justine Biticon
Justine is an 18-year-old from Panorama City, California. 
Krislian Rodriguez
Krislian is a 26-year-old server from Los Angeles. 
Kyle McCoy
Kyle is a 23-year-old bartender from New York. 
Marissa Hopkins
Marissa is 19 years old and from Houston. 
Paige Mobley
Paige is a 22-year-old from Birmingham, Michigan, and is a senior at Loyola Marymount University. 
Tash Wells
Tash is a 27-year-old server from San Jose, California. 
Tatiana Price
Tatiana is a 22-year-old from Queens, New York who is a licensed esthetician and owner of a skin care line.