A cab driver called Somali-American rep. Ilhan Omar "ISIS," threatened to remove her hijab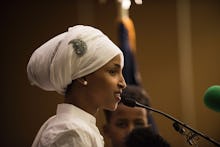 On Nov. 8, Minnesota elected America's first Somali-American legislator, Ilhan Omar. Following her victory, she told the Minneapolis Star Tribune, "It's the beginning of something new ... I am excited for our progressive values and to be able to be on the ground at the Capitol representing the diverse people of my district and being a champion with them and for them."
The United States Capitol, though, was far from welcoming to her. 
After a meeting at the White House on Tuesday, Omar got into a cab back to her hotel only to be bombarded with what she called "the most hateful, derogatory, Islamophobic, sexist taunts and threats" she's ever experienced. Omar wrote later in a Facebook post that the cab driver had called her "ISIS" and threatened to remove her hijab. She said she attempted to exit the vehicle as quickly as possible.
The incident is just the latest in a string of verbal and physical assaults on Muslim public officials. 
A Brooklyn man was arrested on Sunday for calling an off-duty Muslim police officer "ISIS" and telling her, "I will cut your throat; go back to your country." CBS New York identified the officer as Aml Elsokary, who was dubbed a hero in 2014 for saving a grandmother and her 1-year-old granddaughter from a fire. Elsokary wears a hijab while on duty. 
On Monday, a man attacked a Muslim MTA worker in Grand Central Terminal, calling her a "terrorist" and pushing her to the ground, according to DNAinfo. He then said to the woman, "You should not be working for the city."
The country saw a spike in Islamophobic hate crimes just two days after the presidential election. Though anti-Muslim attacks had already seen a significant rise throughout 2016 — even worse than the increase that followed the 9/11 attacks — many experts have pointed to President-elect Donald Trump's campaign rhetoric as a prime motivator of Muslim hate. 
His victory, then, would only embolden those who agree with his calls to ban all Muslims from the United States, for example. 
"I am still shaken by this incident and cant wrap my head around how bold [people] are becoming in displaying their hate toward Muslims," Omar wrote on Wednesday. "I pray for his humanity and for all of those who harbor hate in their hearts."