Is the cast of 'Hairspray Live!' lip-syncing? Audio issues plague NBC special.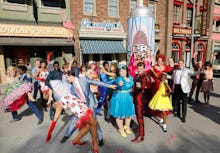 Hairspray Live! is the name of the NBC special — but is it actually "live"? The cast is without a doubt performing live, however, fans think that they may be lip-syncing the tunes of the musical.
The live event kicked off at 8 p.m. Eastern with actress Maddie Baillio, who plays lead Tracy Turnblad, singing "Good Morning Baltimore." Baillio kept up with the dance moves, but Twitter quickly noticed that her singing didn't match her lips.
The theories about lip-syncing stem from the cast's Macy's Thanksgiving Day Parade performance, which featured a prerecorded tune. But according to TV Line, issues with the song on Wednesday night actually had to do with an audio problem. Those issues with audio appeared to continue into other songs following "Good Morning Baltimore." Twitter wasn't happy about it.
While it's unclear if any lip-syncing is happening during the special, Hairspray Live! technical director Alex Rudzinski confirmed to Billboard that he has tracks prepared in case of an emergency. Because the event is live, they have to be prepared for anything that is out of their control, like a low-flying helicopter. The show is being filmed outside on the Universal back lot in Hollywood and outside noises could interfere with the audio.
"Unfortunately, even though the powers of NBC are strong, we don't have control over the airspace on the night," Rudzinski told Billboard. "So if we have a helicopter flying overhead that becomes annoying, what we do have is the recording session that we did in the studios, and we run stems of all the leads and the backing track, so we have the ability to pull the natural sound back a little bit and push the recording in real time, if it becomes a problem."