Air Force One costs: Here's how much the president's plane costs to build and maintain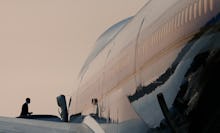 On Tuesday, President-elect Donald Trump sparked controversy when he tweeted out a mandate that Boeing "cancel" President Barack Obama's order for a "brand new 747 Air Force One," claiming that the company was charging over $4 billion for a single aircraft. Trump deemed the costs "out of control." 
The current Air Force One, he suggested, will do just fine.
"I think Boeing is doing a little bit of a number," he said in a later press interview outside Trump Tower, the Washington Post reported. "We want Boeing to make a lot of money, but not that much money."
Trump's cost appraisal was a little off-base. 
According to Politifact, the construction of not one but two replacement Air Force One planes — both of which are necessary so that one is available while the other undergoes repairs — will cost $2.87 billion between fiscal years 2015 and 2021. If the project extends beyond 2021, it will likely cost another $1 billion to complete.
Obviously, Air Force One isn't your typical Boeing aircraft. The presidential plane requires special operational and security features, like the ability to refuel mid-flight and dodge missile attacks as well as the capacity to support secure video conferences and classified computer access. Air Force One, in essence, is the Oval Office in the sky — and that comes at a cost. Politifact reported the aircraft itself accounts for just one-fifth of Air Force One's total cost. 
Such is the price of running the free world.
It's important to note that Obama didn't call for construction of new Air Force One planes just for kicks: the current air crafts, which were purchased by Ronald Reagan, are nearing the end of their 30-year life. 
Trump slammed Obama in 2014 for using Air Force One for making supposed multi-million dollar trips for a political fundraiser. At the time, he told Fox and Friends in an interview, "He raises a million dollars and it costs between $25 million and $50 million, and they close up the entire city of New York."
A corresponding Politifact fact check reported that Obama's trips would have cost between $360,000 and $1.6 million, given a congressional report that put the hourly costs of Air Force One at $179,750. 
Trump's criticism of Obama on this basis has become somewhat ironic given the president-elect's insistence on conducting business from his home and office in Trump Tower, a move that will cost New York City roughly $35 million by the time of his inauguration. Not to mention the security presence and protesters surrounding the building has resulted in delays and congestion as two of five traffic lanes have been closed to make the necessary accommodations.
Immediately following his presidential win, Trump asked his advisers how many days of the week he would be required to stay in the White House and told them he would like to spend as many days in New York as possible.
The New York Times reported, "[His advisers] say that Mr. Trump, who was shocked when he won the election, might spend most of the week in Washington, much like members of Congress, and return to Trump Tower or his golf course in Bedminster, N.J., or his Mar-a-Lago estate in Palm Beach on weekends."
The difference, of course, is that members of Congress don't have to use Air Force One. Whereas Obama had been using the presidential aircraft on official government business, Trump, who'd once criticized such a waste of money, seems to be wondering if he can use Air Force One to visit his various estates for purely personal reasons.
Trump spokesman Jason Miller tried to explain the president-elect's logic on "canceling" the new Air Force Ones to reporters on a Tuesday call, according to the Post.
"I think this really speaks to the president-elect's focus on keeping costs down across the board with regard to government spending," Miller said. "I think people are really frustrated with some of the big price tags that are coming out for programs, even in addition to this one. So we're going to look for areas where we can keep costs down and look for ways where we can save money."