'Hairspray Live!' Review: The 7 standout moments from NBC's live musical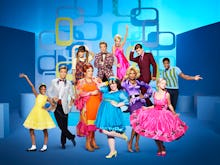 In 2013, NBC started the trend of the live musical with The Sound of Music Live! starring Carrie Underwood as Maria. The event was a hit for the peacock network, garnering nearly 22 million viewers. On Wednesday night, the network continued what it started with the latest live musical, Hairspray Live! 
Maddie Baillio stepped into the iconic role of Tracy Turnblad for Hairspray Live! and was surrounded by an all-star cast featuring Ariana Grande, Jennifer Hudson, Harvey Fierstein and Kristin Chenoweth.  
The live musical event was filled with memorable moments, from Jennifer Hudson's breathtaking performances to its all-star guest cast. Here are the six standout moments from Hairspray Live!
Jennifer Hudson's performances of "Big, Blonde and Beautiful" and "I Know Where I've Been"
Academy Award winner Jennifer Hudson showed up to work during Hairspray Live! and turned out two show-stopping performances. Hudson played the beloved Motormouth Maybelle and sang her face off during "Big, Blonde and Beautiful" and "I Know Where I've Been," once again reminding America that she was voted off American Idol too early.
Ariana Grande stealing the entire thing as the adorable Penny Pingleton 
Ariana Grande stole Hairspray Live! as Penny Pingleton and her performance was so endearing that we could hardly breathe. The adorably ditsy and consistently lost Pingleton was the perfect part for Grande, who once again showed off her live-TV chops: Grande earned rave reviews earlier this year when she hosted Saturday Night Live.
Kristin Chenoweth as Velma Von Tussle
Leave it to the Broadway veteran to show everyone how it's done. Kristen Chenoweth unsurprisingly gave one of the most memorable performances of the evening as Velma Von Tussle. She powered through her rendition of "(The Legend of) Miss Baltimore Crabs" and those final notes she hit were classic Chenoweth.  
The special appearances from Andrea Martin, Sean Hayes, Billy Eichner and Rosie O'Donnell 
The show was filled with special appearances from comedy icons in smaller, but just as memorable roles. Rosie O'Donnell showed up as the gym teacher at the high school, Andrea Martin played Mrs. Pingleton, Sean Hayes as Mr. Pinky and Billy Eichner as Rob Barker were all inspired moments. 
The "You Can't Stop the Beat" performance
The most infectious song from Hairspray is the timeless "You Can't Stop the Beat" and Hairspray Live! did it justice. The entire cast came together for a rousing rendition of the song, which featured an iconic outfit change from Jennifer Hudson that revealed a gold jumpsuit. 
The Ricki Lake and Marissa Jaret Winokur cameos
Former Tracy Turnblads made cameos in Hairspray Live! during the performance of "Welcome to the '60s" Lake, of course, played Turnblad in 1988's Hairspray directed by John Waters. Winokur played Turnblad in the Broadway adaptation of Waters' film and won the 2003 Tony Award for best leading actress in a musical.
Jennifer Hudson and Ariana Grande's duet of "Come So Far (Got So Far to Go)"
Hairspray Live! ended on a high note with Hudson and Grande coming together for a moving duet of "Come So Far (Got So Far to Go)." The two joined forces for a truly unforgettable grand finale that properly capped off the night.