Ugly Christmas Sweater Guide 2016: Where to buy the best sweaters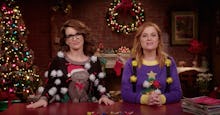 It's that time of the year when your calendar is filled with countless holiday parties. That means you will need at least a few ugly Christmas sweaters for those themed gatherings with your friends.
There is an ugly Christmas sweater for almost every occasion, and the internet is filled with ones for all needs. We've compiled a list of the best and ugliest sweaters to make you're celebrating easier this December.
(Editor's note: Prices and product availability are subject to change throughout the holidays.)
Nothing beats a classic, especially like the traditional ugly Christmas sweater. The uglier it is, the better!
For those eagerly anticipating the Star Wars spinoff movie, Rogue One: A Star Wars Story, this is the perfect occasion to mix Christmas with your favorite galaxy that is far, far away. 
This time of year can be lonely for some — unless you have a two-person sweater. Grab your partner, friend or date for the evening, find some mistletoe and make all your friends envious of your holiday love affair.
For those looking to go the extra mile and really make an impact at the holiday part this year, stand out with a Christmas-themed suit.
For those looking to meet the Christmas party criteria and still be comfortable, look no further than the Christmas onesie. The onesie lets you transition from holiday party to slumber party without having to forgo comfort. You're welcome.
Why not let everyone know what your most recent binge watch was by wearing it proudly on a sweater? A Stranger Things ugly Christmas sweater will make you the topic of conversation at any party this month, and it'll be the perfect outfit to rewatch the first season in. 
Show off your fandom this year with a Marvel-themed ugly Christmas sweater that features your favorite superheroes like Storm, Iron Man and Deadpool. 
If your mandatory office Christmas party gets a little boring, you'll probably start playing Pokémon Go, so why not make sure everyone knows it with this Pikachu ugly Christmas sweater. 
If you're not a big fan of the holiday season, and the crowded malls and cold weather have rendered your heart two sizes too small, express yourself with a Grinch-themed sweater. 
Leave it to Beyoncé to also take over the holidays with an adorable line of Christmas wear. Slay all your friends with a Lemonade-inspired Christmas hoodie.