What will happen in 'The Vampire Diaries' midseason finale? Sneak peek of episode 7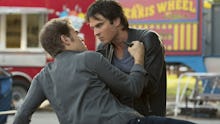 In the midseason finale of The Vampire Diaries, the holidays have a few twists in store for everyone in Mystic Falls. 
All Stefan wants for Christmas is one last family-style holiday dinner before he turns evil for good. Unfortunately, everyone else has different plans for how the evening will go.   
Stefan has decked the halls and made things merry, all for his last day of freedom before he becomes the devil's minion. It's not The Vampire Diaries if there isn't a little bit of trouble, so Damon, Sybil, Alaric and Matt bring the drama. Sounds like a Christmas family dinner to us. 
Entertainment Weekly has an exclusive look at Cade and Stefan's confrontation in episode seven. Cade stops by the Salvatore mansion to discuss their deal — Stefan and Damon catch bad guys for the rest of their lives so that they're kept out of hell — and things get tense between the two. 
Meanwhile, actress Candice King says that Caroline is going to let loose in the mid-season finale. Since this is the final day she gets to spend with Stefan before he commits the rest of his life to serving Cade, King told Entertainment Weekly that fans should expect a lot of twists. "Once Caroline thinks the day is going to go one way, it changes. It's going to be a lot of twists and turns and a lot of really big moments," King said. 
Caroline is, of course, still dealing with being separated from her daughters, who are currently in a safe place thanks to Alaric. The decision wasn't easy for Caroline and King says there'll be a lot of emotions in this episode: "We will see her with the girls this week, and as it is the Christmas episode, there's going to be a whole bunch of emotions coming out. What the holidays bring out in real life, it brings out just as many emotions in Mystic Falls," King revealed.
The Vampire Diaries is currently in its eighth and final season. The midseason finale airs Friday, Dec. 9 at 8 p.m. Eastern on the CW.