John Kelly is the third general named to Trump's cabinet, and he might not be the last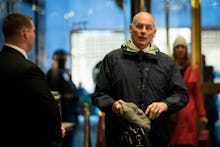 Former Marine Gen. John Kelly is the third high-level ex-military leader President-elect Donald Trump has chosen to join his cabinet. And with several more posts to fill, it's possible he may not be done.
Trump is also considering ex-CIA head and retired four-star Gen. David Petraeus as a possibility for secretary of state. Other positions could be filled by more individuals with military backgrounds — something that has national security experts concerned.
Here's what you need to know about Trump's military picks.
John Kelly
Trump's selected Kelly to lead the Department of Homeland Security. As head of Homeland Security, Kelly will oversee defending the United States against terror threats, responding to natural disasters and enforcing immigration laws.
Though he's viewed as a moderate selection by some for his tempered views on immigration, Kelly still has some controversial views. He has openly disagreed with President Barack Obama's decision to include women in combat roles, arguing that doing so would force the military to lower standards in order to accept women into those roles. Current Navy Secretary Ray Mabus has said will never happen. For his part, Trump has wavered on the issue.
James Mattis
Retired Marine Gen. James "Mad Dog" Mattis is Trump's pick to lead the Department of Defense. Mattis' appointment presents a potential wrinkle as he would require a congressional waiver before being able to serve. 
The position of secretary of defense requires those who serve in that role to have been retired for at least seven years before assuming the position, in order to assure civilian control of the military. Mattis has only been retired since 2013, but he's expected to receive the waiver from Congress in 2017. 
Michael Flynn
Trump has tapped former Army Lt. Gen. Michael Flynn to be his national security advisor. So far, Flynn is probably Trump's most controversial military pick, given his close ties to Russia and propensity to spout Islamophobic and other xenophobic rhetoric. He has admitted to being "at war" with Islam and has been critical of Obama for not using the term "radical Islam," though doing so may cause more harm than good in the fight against terrorism.
Flynn also seems to have a penchant for spreading "fake news," including the now-infamous pizzagate story that wrongly accused a pizzeria in the D.C. area of being a front for a Hillary Clinton-backed sex ring. Just this week, Trump fired Flynn's son from his transition team for spreading the story on Twitter.
"I know more ... than the generals do"
Trump's picks are curious given that he has often criticized top military personnel — especially during the campaign. During a speech last year he boasted that he knew more than "the generals" about ISIS. 
In September he ranted during NBC News' live "Commander in Chief Forum" about the generals having been "reduced to rubble" under Obama and former Secretary of State Hillary Clinton. During the same broadcast, he also said "the generals" were "embarrassing to our country."   
Some have criticized the president-elect for choosing so many generals to head up his important departments, claiming a "militarization" of the cabinet is occurring. 
Retired Maj. Gen. Charles Dunlap has a different view, and argues that surrounding Trump with military brass will actually lead to peaceful outcomes. "Retired generals don't clamor for war," he wrote. "They are typically the voices urging that all other avenues be exhausted before turning to force."