Happy Birthday, Ian Somerhalder! His best 'Vampire Diaries' moments in GIFs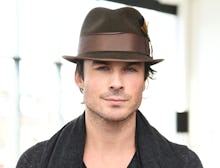 There'll be a lot to miss about the Vampire Diaries, which is currently airing its eighth and final season on the CW. But Ian Somerhalder, who plays antihero Damon Salvatore, undoubtedly tops the list. 
When the supernatural series premiered in 2009, fans were introduced to the brewing romance between high school orphan Elena Gilbert and her soon-to-be love interest, broody vampire Stefan Salvatore. All seemed good in the fictional town of Mystic Falls, Virginia, that is until Damon, Stefan's estranged brother, arrived to town. He quickly shook things up.
Somerhalder, who turns 38 on Dec. 8, got his big break starring in the first season (and appearing as a guest in subsequent seasons) of Lost. About years after the popular series first premiered in 2004, Somerhalder landed the role of Damon in March 2009. Throughout his years playing the older Salvatore brother we've learned a lot about his layered character: his past, his relationship with his brother and his relationship with Elena, his main love interest up until actress Nina Dobrev departed the series after season six. 
To celebrate Somerhalder's birthday — and the sometimes unpredictable, often hilarious Damon — here are some GIFs from the actor's greatest moments on the long-running show. 
Ian Somerhalder's best Vampire Diaries moments
It took four episodes of The Vampire Diaries for the series to acknowledge its relationship to Twilight, the popular book series that's also about a supernatural romance between a human and vampire. After Caroline Forbes asks Damon why he doesn't sparkle, he grows frustrated over the state of vampire mythology. It's not a funny quip but one that's super aware of its place in our vampire-obsessed culture.
In the early seasons of The Vampire Diaries, Damon was the comic relief of the show, the foil to Stefan's uptightness. But he still had his moments. In season three Elena wonders why he won't let others see the good in him. Damon, naturally, has a bitter response. 
Yikes. While The Vampire Diaries set us up for a long romance between Stefan and Elena, things immediately took a turn when Damon arrived. It became evident that the show would be about her feelings for both brothers, which reaches a breaking point in season four. Elena isn't sure if her feelings for Damon are real. Nevertheless, Damon is pretty sure of what he wants.
Then there are these...
Happy birthday, Ian!