Linda McMahon's WWE career, senate campaign and what you need to know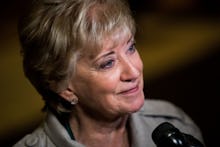 President-elect Donald Trump is tapping former World Wrestling Entertainment CEO Linda McMahon to lead the Small Business Administration, adding another billionaire to his growing cabinet. 
But aside from being a wealthy executive who donated millions to help elect her new boss, there are plenty of other things worth knowing about McMahon, who will now be in charge of the federal government's support agency for small businesses and entrepreneurs.
Marriage and the rise of the WWE 
Born in 1948, Linda Edwards first met her future husband Vince McMahon when she was just 13 years old. The two married in 1966 and have been together ever since.
Starting in the 1970s, Vince McMahon ran his father's company Capitol Wrestling, which was the "sanctioning body" of what was known then as the World Wrestling Federation (the WWF would eventually change "Federation" to "Entertainment" due to misuse of the initials per an agreement with the World Wildlife Fund).
McMahon and her husband Vince have run the company throughout its highs and lows. From Hulkamania to the "Attitude" era (of which Trump was a part), McMahon served as CEO of the company until 2009, when she left the wrestling business to enter the political theater.
Unsuccessful run for U.S. Senate
McMahon has twice run for a U.S. Senate seat in the state of Connecticut. In both contests, she has lost to her Democratic counterparts.
In 2010 she ran as a Republican against Democrat Richard Blumenthal to replace retiring Sen. Chris Dodd. Though that year saw the birth of the Tea Party movement and a resulting wave of electoral victories for Republican candidates across the nation, McMahon failed to tap into that momentum in her home state. She lost to Blumenthal by about 12 percentage points.  
McMahon ran for Senate once more in 2012, this time against Democrat Chris Murphy, as the pair sought to replace another retiring Senator (this time, Joe Lieberman). Initially, the race seemed much closer than McMahon's first bid, but ultimately, the result was the same — McMahon lost to Murphy, by 12 points.
Appointment and support of Trump
Trump says he is confident in McMahon's ability to succeed in her new role, particularly due to her own experience in growing a small business, according to a statement made by the president-elect. 
"Linda has a tremendous background and is widely recognized as one of the country's top female executives advising businesses around the globe," Trump said on Facebook. "She helped grow WWE from a modest 13-person operation to a publicly traded global enterprise with more than 800 employees in offices worldwide."
The Small Business Administration provides "loans, loan guarantees, contracts, counseling sessions and other forms of assistance to small businesses," according to its official website. 
McMahon's appointment comes with some controversy. She has spent a considerable amount of her wealth on Republican causes, including close to $100 million on her own failed campaigns. 
In addition to her contributions to Trump's campaign efforts, she and her husband also gave $5 million to the Trump Foundation between 2007 and 2009. And despite her support for his campaign, she also publicly denounced comments Trump has made about women, calling them "deplorable."
"I think the rhetoric has really gone over the top," she told Yahoo Global News anchor Katie Couric in October. "Some of the comments that have been made, I think, are quite deplorable. I would like to see our candidates focus on the issues."