This African model recreated campaigns with white models to show the beauty of diversity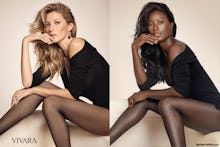 Model Deddeh Howard, who was born in Liberia and is now based in Los Angeles, was sick of just seeing white models in ad campaigns. But rather than mope -- she's showing the fashion world exactly what they're missing.  
In a series of images Howard is calling the Black Mirror project, which was posted on Howard's blog on Tuesday, Howard recreates ad campaigns starring white models like Gisele Bündchen, Gigi Hadid, Kendall Jenner, Kate Moss and more. 
According to Howard, the idea came to her after passing through a grocery store, and noticing just how few black models were featured. 
"I was in a grocery store and picked up a magazine looking for inspiration for my blog," Howard said in an interview with Mic. "Then it hit when looking through various magazines, there were simply no black models in there. Then it struck me how often this is the case not only in magazines, but also billboards and TV shows. That gave birth to the Black Mirror project and shoot these pictures." 
In each of the images, which were captured by photographer Raffael Dickreuter, Howard replicates the poses of the models exactly. The only difference really is her skin tone. 
"The goal was to do a bold project and show the world what diversity is capable of," Howard said. "We live in a globalized world today with many mixed couples, you assume this should be more common now. But we were humble in our hope that it might get little attention." 
Howard was keen on focusing on brands that rarely use black models in their campaigns and wanted to make sure she covered a wide range of campaigns, from lingerie to sunglasses to jeans. 
"The first criteria was to identify brands that truly never or almost never use black models and were we felt strongly that black models would look great representing them as well. We were surprised to find out that there were so many of them," Howard said. "Then for each brand we tried to find a shot that was ideally famous and striking at the same time and that would look great when being re-shot. In the end it was important to have a diverse collection of different products as well, covering sunglasses, bags, jewelry, etc to cover a broad range of the fashion industry." 
Already on social media, the images have made a splash, with Twitter users quick to applaud Howard's gusto. 
"Nothing prepared us for the big wave of response we got and how many people got inspired by the Black Mirror project," Howard said. "It almost seems it started a movement." 
And a movement for more diversity is exactly what Howard hopes comes from these images, since it's one of the things she thinks can change the fashion world for the better. 
"It might take a movement to break the status quo, customers speaking out and asking for change and progress," Howard said. "It might take a similar effort like the green movement, when it became all of a sudden hip for brand to produce sustainable products. All it takes is people speaking out." 
What she wants viewers to feel is just how disappointing it is to be a black model working today, seeing all these campaigns that you could have easily landed yourself, but didn't. Howard herself even revealed in the blog post that she's been turned down from agencies just because they already have a black model. 
"I want [viewers] to feel what I have been through when I got rejected and if they have been through the same thing to give them hope they are not alone," Howard said. "The two pictures all being shown together should really show that we all have a place, that we all belong and should be visible."