When will 'Arrow' season 5 return? Midseason premiere date announced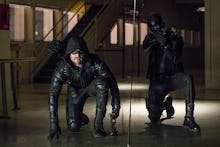 After airing its midseason finale Wednesday night, Arrow's fifth season will return with new episodes on Jan. 25. There is no official synopsis available for episode 10 yet, but there is certainly no shortage of reasons to look forward to the latter half of the season. 
The midseason finale of Arrow was easily one of the season's stronger episodes. Team Arrow's fight with Prometheus heated up, and we learned the villain may be connected to Oliver's past activities as The Hood. 
Early in the episode, Prometheus told Artemis he was not going to kill Oliver, but rather make him "wish he was dead." Prometheus then embarked on systematically tearing apart Oliver and every member of his team. 
First, Prometheus attacked Curtis outside of the Mayor's Christmas party, sending him to the hospital, and ultimately leading to a rift between Mister Terrific and his husband, Paul. Then, though not clear that it is Prometheus' doing (but it likely is), Diggle was lured into his safe house, only to be ambushed by police. He will presumably be heading back to military prison come January. 
Of course, the team's major setback of the night came at the hands — or rather, bow — of the Green Arrow. During his pursuit of Prometheus, Oliver is tricked into firing several arrows into the chest of a defenseless Billy Malone — his mouth was taped shut and he was dressed as Prometheus. 
Having Oliver kill Felicity's new boyfriend could create a rift between the formerly engaged couple — did he do it out of a jealous rage? However, it appears Felicity is entirely blaming Prometheus for Oliver's actions. We will have to see how well that holds when Arrow returns. 
Is Laurel Lance alive?
Undoubtedly the biggest question heading into the winter hiatus is whether Laurel Lance has returned from the great beyond. We should not be so naive to think characters cannot be brought back to life in comic book adaptations. 
After all, with things like Flashpoint, magic, the Lazarus Pit, etc., people come back to life all the time. In fact, perhaps foreshadowing the surprise, Felicity mentions early in the episode that people seem to rise from the dead "every Wednesday" (we see what you did there). 
While it certainly looks like Laurel Lance has returned, there are some other possibilities: She could be a vision or hallucination. Could Prometheus somehow have drugged Oliver? Possibly. Maybe she is a Laurel from another Earth? Doubtful. Flashpoint obviously comes to mind, but does not seem to fit with all the time that has passed. 
If that is indeed Laurel Lance from Earth-1 proper, the most likely explanation for her resurrection would be the Lazarus Pit. Even though Nyssa destroyed the pit in season four, there could be more across the world, or maybe Flashpoint reversed the destruction of Ra's al Ghul's Lazarus Pit. The question then becomes: Who resurrected Laurel and why?
Stephen Amell goes live
Stephen Amell, who portrays Oliver Queen on Arrow, has always been active with fans on social media. He live-tweeted Arrow Wednesday night before jumping on Facebook to talk with fans. You can watch the entire feed below:
"Obviously people don't just come back from the dead, so there has to be some sort of vetting process to make sure it actually is Laurel because the group has seen some peculiar things," Amell explained in the video above. "We delve into that when we come back in the New Year."
When a Black Canary fan subsequently told Amell they hope Laurel returns, the actor agreed.
"I will say that, forgetting about the show for a second because if you just look at the canon of Green Arrow, John Diggle wasn't actually a character and he's indispensable; Felicity Smoak wasn't really a character and she's indispensable," Amell said. "So we picked and plucked from various parts of the DC Universe, but if you're just getting into the canon of Green Arrow, the comic book character, not necessarily the show but the comic book character, the Black Canary is easily the most important feature next to the Green Arrow, period, full stop, forever. So it would be very nice to have the Black Canary back."
There is no doubt that the Black Canary is important to the Green Arrow mythos. She is the Catwoman to Green Arrow's Batman. The issue with bringing her back, though, is diminishing the stakes of the series. 
Killing off Laurel Lance in season four was a major decision likely aimed at showing that nobody on the show is safe. An issue with comics in general has always been the fluid nature of mortality. Bringing Laurel back from the dead could anger fans who were happy that Arrow infused some real stakes into the show.
Set your DVRs
Arrow fans will not want to miss a thing once the show returns from its hiatus. With Prometheus still a looming threat, Diggle possibly heading to jail and Laurel's shocking return, Arrow's fifth season is only just heating up. 
Set your DVRs for Jan. 25 at 8 p.m. Eastern so you do not miss a beat.