Stephen Colbert slams pizzagate conspiracy theorists after being dragged into it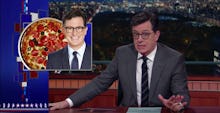 Though it should be common knowledge, The Late Show's Stephen Colbert reminded viewers Wednesday that his talk show will cover the news, but it's not news: It's entertainment. The reason being that fake news is popping up everywhere — it likely played a factor in this year's presidential election — and it's become such an issue that Pope Francis had to address, and condemn, people who spread fake news by calling them literal shit-eaters. 
"If the Pope's talking poop, you know we're in deep doo-doo," Colbert said. 
Colbert then turned his attention to one of the biggest fake news scandals, pizzagate. The pizzagate controversy, for those who haven't caught up on its absurdity, stemmed from a conspiracy theory, promoted by the white nationalist alt-right, about Hillary Clinton and her former campaign manager John Podesta running a child sex ring in the basement of a Washington, D.C., pizzeria. 
Aside from the fact that the pizza place in question doesn't even have a basement, there was no basis for the claims. That didn't stop Trump's pick for National Security Adviser, Michael Flynn, from tweeting out an article citing this false story while adding, "U Decide." Though Flynn's son was booted from Trump's transition team for spreading similar false narratives about pizzagate, Flynn wasn't. 
"OK then, I decide a guy who spreads this bullshit shouldn't be in charge of national security," Colbert says. 
Amazingly, Colbert himself was brought into the pizzagate controversy by conspiracy theorists, when, during Colbert's live election special, he apparently referred to pizza a lot, which some people found "CREEPY." Being entangled in the conspiracy by online "Da Vinci chodes" on Reddit had the host perplexed. 
"I have absolutely no part in the pizzagate conspiracy ... is what they want me to say!" Colbert said, addressing the camera precariously. 
After joking that he couldn't be on Clinton's payroll — which some online conspiracy nuts theorize — because he'd be too expensive, Colbert pulled out a transcript of a pre-interview discussion between himself and Trump, back when Trump appeared on The Late Show in 2015. They had talked about what topics would be covered for their interview, and after teasing the notion of revealing the conversation to his viewers, he ultimately shredded it. 
"Here's what these conspiracy theorists don't get," he concluded. "There's a difference between a conspiracy and an agreement. A conspiracy is what villains do. An agreement is what adults do. Look around the country — wouldn't you agree we need some more adults? So WikiLeaks, Alex Jones and the sub-Reddit sub-geniuses — and I mean this in the nicest way possible — grow the fuck up." 
Watch Colbert's pizzagate segment below: