'Westworld' Soundtrack: Show shares haunting Radiohead, Amy Winehouse, Soundgarden covers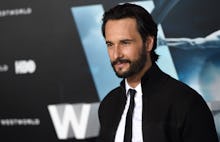 HBO doesn't come with bad music. They leave that to basic cable. 
Nearly every one of the network's major lineup entries has grabbed headlines with its musical choices, but none have done it quite like Westworld. To add a disorienting twist on the show's frontier escapist fantasy, the show's creators solicited dark honky tonk and symphonic covers of modern songs from artists like Radiohead, Amy Winehouse, Nine Inch Nails, the Cure and the Rolling Stones.
This week, the show released the full season one soundtrack, following their previous EP of selected covers. It spans two discs and 34 tracks, amounting to about an hour and 50 minutes of dark Westworld brilliance.
Ramin Djawadi's covers still run the show
The cunning pop canon reimaginings are the brain children of composer Ramin Djawadi, who's also contributed music to Game of Thrones and films like Iron Man. Some add lift to the show's action, some leak out of the show's player piano from time to time adding musical easter eggs for the attuned listener. This understated nature is what fascinates Djawadi, as he explained to Pitchfork:
What I love about that is it just comes out of nowhere and you don't expect it at all. You see the settings and the way people are dressed and even though you know it's robots and it's all made to be modern entertainment, you would think the people in control would make everything authentic, including whatever is played on that player piano. It would be from that time period. And when it's not, it's that subtle reminder that, 'Wait, there is something not right. This is not real.' It's just such a powerful tool that only music can do.
Mic has ongoing Westworld coverage. Read more about the show's music in our breakdown by episode feature here, and follow our Westworld hub here.