Ranking NBC's and Fox's live musicals — how does 'Hairspray Live!' hold up?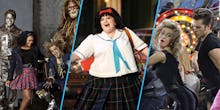 Hairspray Live! came and went in a mess of technical errors Wednesday night, impressing in some scenes (Jennifer Hudson's "I Know Where I've Been") and disappointing in others ("Good Morning Baltimore"). It wasn't the worst live TV musical NBC has ever aired — but compared to some others that have aired on both that network and Fox, it starts to look a bit shabbier.
As we close the book on this chapter and look forward toward Jennifer Lopez's Bye Bye Birdie Live! in 2017, let's rank the five live TV musicals so far. Which one comes out on top? Read on to find out.
5. Peter Pan Live!
We can quibble about how bad The Sound of Music Live! was, but Peter Pan Live! was really the only unmitigated disaster of these five. It was a terrible show, from concept (not a strong enough show to perform) to casting (Allison Williams isn't charismatic enough to carry a show) and execution. When the main talking point your viewers walk away with is the guy who played the crocodile, you know you've whiffed.
Best aspect: Christian Borle's arms
4. The Sound of Music Live!
Give The Sound of Music Live! some credit: It turned what could have been a one-off failure into a tradition for NBC and a near-phenomenon in the ratings. It redefined what live-tweeting and communal viewing could be. Now, to be fair, that's because everyone was hate-tweeting it. Carrie Underwood is a talented singer, but her Maria was flat in every book scene, and only Laura Benanti's Elsa and Audra McDonald's Mother Abbess could save the show.
Best aspect: Audra McDonald's "Climb Ev'ry Mountain"
3. Hairspray Live!
If the numerous technical glitches were the only problems with Hairspray Live!, we could probably wave them away and give the performers credit for dazzling through the janky production. But frankly, Hairspray Live! had a lot of issues and will likely not hold up to close examination. 
Some performers killed it (Jennifer Hudson, best she's been since Dreamgirls, and Kristin Chenoweth, campy perfection as Velma von Tussle); some were pleasant surprises (Ariana Grande's goofy Penny and Dove Cameron's precisely bitchy Amber); and some really dragged down the show. Newcomer Maddie Baillio never quite found her groove as Tracy Turnblad, while Garrett Clayton was all wrong as Link Larkin. It was a show with powerful moments, but an uneven cast and technical disasters keep this one firmly stuck in the middle.
Best aspect: Jennifer Hudson's "I Know Where I've Been"
2. Grease Live!
Technically, Grease Live! is unparalleled. Fox took NBC's live musical idea and got incredibly ambitious, moving away from a soundstage and setting the action in various locations, even outdoors. (Hairspray Live! tried and failed to do the same, proving once again how impressive Grease Live! was.) 
If only Fox had chosen a better show to match this team's production prowess. There were stunning scenes — Vanessa Hudgens' plaintive, note-perfect "There Are Worse Things I Could Do" — but most of the performances fell into a safe, forgettable space. Grease Live! broke ground, but it's more memorable for how it changed the game than what it was itself.
Best aspect: Vanessa Hudgens' "There Are Worse Things I Could Do"
1. The Wiz Live!
Yes, the soundstage setting and lack of live audience looks worse in retrospect. And sure, there were some less impressive performers (Mary J. Blige's Evillene, for instance). But The Wiz Live! was basically as close to a home run as live TV musicals get. 
It was tweetable — but for how good it was, not what a disaster it became. It was good theater and good television, which are hardly the same thing. Perhaps most importantly of all, it summed up why representation matters on TV. Here is a production not just full of black stars, but celebrating black lives and black talent. The Wiz Live! wasn't perfect, but it was important, well-executed and set a standard of what live TV musicals can be that hasn't yet been topped.
Best aspect: Shanice Williams' rising star