'Bye Bye Birdie Live!' Cast: Who is starring in the NBC 2017 musical?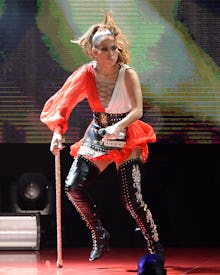 Now that Hairspray Live!  has aired on NBC, it's time to look ahead to the network's next live musical. That would be Bye Bye Birdie Live!, which is slated to premiere this time next year. 
The 2017 production will star Jennifer Lopez in the role of Rosie. But that isn't the only role that Lopez will be taking on. She will also executive produce the broadcast version of the Tony Award-winning Broadway musical. 
"To have a superstar like Jennifer Lopez starring in this classic show, which every high school in America has done, will ensure that our holiday musicals continue to be must-see events for the whole family," NBC entertainment chairman Robert Greenblatt said in a press release. "It was her idea to take on this classic singing and dancing role made famous by the legendary Chita Rivera, and we are so happy to oblige! This show has delighted audiences for generations with classic songs that include 'Put on a Happy Face' and 'A Lot of Livin' to Do,' and this will be an extravagant production built around this big star."
On Wednesday, Lopez tweeted her enthusiasm for her involvement in the musical along with a teaser:
"Broadway musicals and films fueled my childhood and Bye Bye Birdie was one of my favorites," said Lopez in the same press release. "I'm proud to be a part of the NBC family with Shades of Blue and I thought it would be a blast to take on one of their big live musicals."
This casting news is exciting not only for the star power that Lopez brings, but also for the significance of casting a Latina actress to play the Mexican-American character of Rosie amid Hollywood's heel-dragging on the issue of diverse casting. In the 1963 movie version of Bye Bye Birdie, white actress Janet Leigh took the role. Chita Rivera, who played Rosie in the original Broadway production that opened in 1960, was of Puerto Rican heritage, as is Lopez. Though producers for the live musical have been announced, other casting decisions have not been made public.
Bye Bye Birdie Live! is an adaptation of the Broadway musical that starred Dick Van Dyke as Albert Peterson alongside Rivera. Michael Stewart wrote the book, while Lee Adams wrote the lyrics and Charles Strouse wrote the music. The story takes place during the rock 'n' roll era in a small Ohio town, where rock star Conrad Birdie has infected all the teenagers with Birdie fever.