Here's what we know about Russia's alleged interference in the presidential election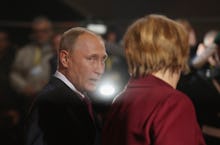 On Oct. 7, a month before President-elect Donald Trump defeated Hillary Clinton in an election upset, President Barack Obama's administration formally inculpated Russia of meddling in the elections. 
"The U.S. Intelligence Community is confident that the Russian Government directed the recent compromises of emails from U.S. persons and institutions, including from U.S. political organizations," the Department of Homeland Security and Office of the Director of National Intelligence said in a joint statement. 
"The recent disclosures of alleged hacked e-mails on sites like DCLeaks.com and WikiLeaks and by the Guccifer 2.0 online persona are consistent with the methods and motivations of Russian-directed efforts," the statement added. "These thefts and disclosures are intended to interfere with the U.S. election process."
Now, congressional Democrats are increasing pressure on the Obama administration to declassify their findings. Democrats and their allies in the Senate Intelligence Committee delivered a letter to Obama on Nov. 29, imploring him to make public the evidence they allege to have against Russia. 
This was followed a week later by another letter — this time from senior House Democrats — with the same request. Signatories include Democrats from the judiciary, intelligence, armed services, foreign affairs and oversight committees in the House of Representatives. 
But Obama has yet to comment on either letter.  That's all to say, while the intelligence community has stated they can definitively identify Russia's interference in the elections, they will not disclose what exactly their evidence involves.  
In July, shortly before its convention, the Democratic National Committee's emails were hacked and a subsequent investigation found Russia to be responsible. The incriminating emails exposed an internal party bias against then-contender Sen. Bernie Sanders and resulted in the resignation of DNC chair, Florida Rep. Debbie Wasserman Schultz, the night before the Democratic National Convention began. 
In another instance, WikiLeaks alleged in October they had released portions of Clinton transcripts from paid speeches she gave to Wall Street — the transcripts painted Clinton as duplicitous and less supportive of financial regulation than she had publicly claimed. 
Independent researches have also pointed a finger at Russia for propagating fake news with the intention of damaging Clinton's reputation during the election.
Trump has staunchly objected to the intelligence community's accusation of Russia's interference in the elections. "I don't believe it. I don't believe they interfered," he told Time, in his 2016 Person of the Year profile published Wednesday.
However, via a tweet in July, Trump encouraged Russia to release any emails it might have obtained from Clinton, giving weight to the rumors.
In a statement posted to his Twitter account Wednesday, Democratic ranking member on the House intelligence committee, California Rep. Adam Schiff, took umbrage at Trump's recent denial of Russian involvement.
"Notwithstanding the abundance of evidence that Russia hacked our political institutions during the presidential campaign and dumped documents in an effort to meddle in our political affairs, President-elect Trump's comments this morning continue to contradict our intelligence professionals and carry water for the Kremlin," Schiff wrote in his statement.