Jeff Sessions' desegregation claims may not be true, according to report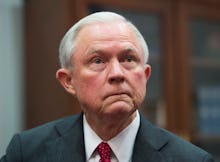 When president-elect Donald Trump tapped Alabama senator Jeff Sessions for the role of attorney general, several opponents of the appointment began to speak about his deep history of racism. As Luis Gutiérrez, a Democratic congressman from Illinois, put it, Sessions is basically the poster boy for "nostalgia for the days when blacks kept quiet."
Sessions, who was denied a federal judgeship because of his alleged racist rhetoric, has previously defended himself from allegations of racism by claiming that he championed desegregation efforts in Alabama during his tenure as a U.S. attorney for the state.
"I filed 20 or 30 civil rights cases to desegregate schools and political organizations and county commissions when I was a United States attorney," Sessions told National Review in 2009. 
But, according to a new report in the Atlantic, no evidence could be found to support his claim. The report reads: 
The Atlantic could not find evidence Sessions filed any new school desegregation lawsuits. Searches of the legal databases Westlaw and PACER found no evidence that any new school-desegregation lawsuits were filed in Alabama's Southern District by Sessions between 1981, when Sessions became U.S. attorney in Alabama, and 1995, when he became Alabama attorney general, though it is possible that the records exist but are not in those databases. The Atlantic could find no reference to the claim in the transcripts of his 1986 confirmation hearing.
The Atlantic also said they spoke to several former Justice Department officials who "expressed puzzlement" about the claim, given that desegregation orders were given in Alabama in the 1970s. Legal experts and historians the Atlantic consulted who focus on desegregation know nothing of desegregation cases filed during that time, either — including cases allegedly filed by Sessions. 
The Atlantic did, however, find that Sessions' name was attached to at least one filing from the United States' civil rights division lawyers during his time as a U.S. attorney. Yet signing some documents is not the same as filing a few dozen civil rights cases. Here's what Sessions said in a 2009 National Journal interview:
I signed 10 pleadings attacking segregation or the remnants of segregation, where we as part of the Department of Justice, we sought desegregation remedies — the takeover of school systems, redrawing lines — all those things that I was allowed to participate in supporting.
When the Atlantic reached out to Trump's transition team, they sent over a list of Sessions' four "top civil rights enforcement cases." But the magazine also said that attorneys who worked on the cases don't recall Sessions playing a major role. 
"All this shows is that Sessions didn't completely refuse to participate in or have his name on pleadings in cases that the civil rights division brought during his tenure," Samuel Bagenstos, the former principal deputy assistant attorney general in the civil rights division under Obama, told the Atlantic. "But nobody, to my knowledge, has ever made such a claim about him." 
He added, "These four cases are awfully weak evidence of Sessions' supposed commitment to civil rights. ... If this is what they can come up with, it's pretty unimpressive."