'BuzzFeed' report: Stanford offered students money to withdraw sexual assault complaints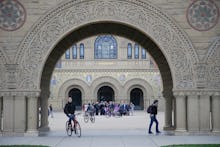 Stanford University may have attempted to silence sexual assault victims, offering them money in exchange for withdrawal of Title IX complaints they'd lodged with the Office for Civil Rights, BuzzFeed reported Wednesday. 
Two women spoke with the website about the settlements Stanford reportedly tried to reach with their lawyers. One chose to remain anonymous, but the other, 2014 graduate Leah Francis, said the school offered her $60,000, ostensibly to pay for therapy, if she would withdraw her complaint and end the federal investigation into the university's handling of sexual misconduct allegations. Neither woman accepted the money.
In an emailed statement, Stanford's Vice President for University Communications, Lisa Lapin, wrote that BuzzFeed's story "misrepresents the circumstances" — that the school had been "respond[ing] to demands from [the complainants'] lawyers that Stanford pay money to their clients or be faced with costly and time-consuming litigation." She continued:
Stanford is not seeking and has never sought in any way to end the Title IX investigations and could not do so even if it reached a settlement forestalling potential litigation with an individual party. We look forward to having all the facts in these cases come out publicly in court, as privacy law precludes us from discussing the facts otherwise. The university has nothing to hide about its handling of these cases and has no desire to keep any sexual assault survivor from talking about any criticisms they may have of Stanford or its processes.
"The suggestion that Stanford is resistant to reforms in its sexual assault policies and practices is incorrect," Lapin added.
"Stanford has undertaken a wide range of efforts to strengthen the prevention and response to sexual violence at the university, and these efforts are continuing," Lapin said. "We look forward to continuing to work with our campus community and the Office for Civil Rights to address our shared goal of ensuring a safe campus environment free of sexual assault and relationship violence."
There are currently four Title IX investigations open at Stanford. Francis' stems from an extended battle with the school after she reported being "forcibly raped" by another student in early 2014, as she explained in an email addressed to her "fellow Stanford students, classmates and staff." She submitted to the school's Alternate Review Process and after five months, her alleged attacker was found responsible for sexual misconduct, sexual assault and violating the school's Fundamental Standard. 
But Francis told BuzzFeed she wasn't convinced the student's punishment fit the crime: As the Stanford Daily reported, he received a five-quarter suspension, one fifth of which he satisfied that summer. Like Francis, the student was a member of the class of 2014, so the suspension was tantamount to a one-year graduate school deferral. Once his "gap year," as Francis called it, was up, he'd return to campus. Instead, she argues, he should have been expelled. Francis ultimately declined Stanford's settlement because she believes the school's attitude toward sexual assault needs to change. 
"I think they should cooperate with the Office for Civil Rights," Francis told BuzzFeed. "Stanford should stop trying to isolate and bully survivors of sexual assault into dropping their complaints by dangling much-needed money for health care in front of them."
On her GoFundMe page, Francis vowed "to keep my complaint open no matter how much money Stanford offers me," and is crowd sourcing the money she needs to pay for the therapy that, she says, has become a necessity in the wake of the assault. 
Stanford is not alone in its mishandling of sexual misconduct reports — the OCR is currently investigating over 200 schools for alleged Title IX violations — but it is among the most high-profile offenders. There's the now-infamous Brock Turner case to contend with, in which one of the school's students sexually assaulted an unconscious woman behind a dumpster. 
Then there are the accusations that Stanford systematically ignored complaints about on-campus predators. On Wednesday, the Equal Rights Advocates group filed a lawsuit against the school for "acting with deliberate indifference" to four reports of sexual assault by "Mr. X," a male student. Stanford often seemed to blame the women who came forward, the suit alleged, and while it did eventually find him responsible, Mr. X still graduated with bachelor's and master's degrees. 
Pressure for the school to take responsibility for its treatment of sexual assault survivors seems to be coming from all sides. As BuzzFeed pointed out, the OCR won't necessarily close an investigation just because the complaint is withdrawn. If the problem appears to be a chronic one, the OCR can keep on digging.