Celebrity Death Hoaxes: Here's who didn't die in 2016 despite rumors suggesting otherwise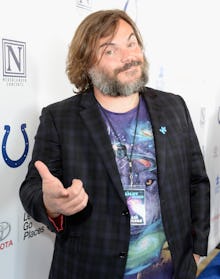 Many celebrities died in 2016. 
But several celebrities — such as Angelina Jolie, Jim Carrey and Mr. T — did not, despite online reports to the contrary.
Here are the five biggest celebrity death hoaxes that had the internet fooled this year:
Sean Penn
Back in January, after the actor-turned-journalist-cosplayer scored an interview with elusive drug kingpin El Chapo, reports began circulating that Penn had been found murdered in his Malibu home. But Penn lived on and had some more film work in 2016, including directing Javier Barden and Charlize Theron in The Last Face and voicing an angry bird in The Angry Birds Movie. 
Adele
Here is a YouTube video of Adele performing her hit single "Hello" in April 2016. This demonstrates that the singer did not die in a car crash a month earlier, as some prankster would have you believe. 
Stan Lee
Comic book legend Stan Lee was said to have "dyed" at his home in May, but the 93-year-old Marvel icon is still alive. 
Jack Black 
While many death hoaxes this year originated on fake news sites — you know, like the ones that claim pizzerias are secret fronts for Hillary Clinton-backed pedophilia rings — the one that led many to believe actor Jack Black had died came from the Twitter account of his comedy-rock band, Tenacious D.
"It is with a heavy heart I am to announce that Jack Black passed away last night at 3:37 a.m. The cause of death his yet unknown," the band posted.
As it turns out, the band's Twitter was hacked, and the tweet was quickly refuted by the band, who called it a "sick 'prank'." Black, thankfully, is still very much alive, and likely making guitar sounds with his mouth somewhere. 
Hillary Clinton
Clinton has had to face down a lot of falsehoods over her long life in politics, but in September — in the thick of the presidential race — bizarre conspiracy theories began to circulate alleging that the democratic nominee had died and been replaced by a body double, à la a similar conspiracy about Paul McCartney. A living, breathing Hillary would go on to lose the election but win the popular vote.