'Super Mario Run' Demo: How to play the Nintendo game right now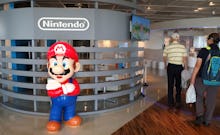 While the Super Mario Run release date is set for Dec. 15, the launch of the iOS app's demo is unclear. That is, until Wednesday. 
On The Tonight Show With Jimmy Fallon, Nintendo of America president Reggie Fils-Aimé showcased the Nintendo Switch and announced how gamers can indulge in the Super Mario Run demo a week ahead of time.
Super Mario Run iOS Demo: How to play right away
At the moment, the Super Mario Run demo still isn't downloadable. Instead, Nintendo fans will have to venture to their local Apple Store and play the game on an iPhone or iPad on display in the store. Fils-Aimé told Fallon every Apple Store will have the demo of Super Mario Run starting Thursday. Mario creator Shigeru Miyamoto himself might even be at your Apple Store.
You'll want to head here to locate an Apple Store near you. (Pro tip: Charge your own phone on the display dock as you play, because that's exactly what Apple Stores are for.)
Super Mario Run release date is almost here.
The Super Mario Run launch is quickly approaching, and Nintendo and Apple are ramping up promotion. For one, Apple debuted a new App Store feature alongside the announcement of Super Mario Run: Notify. When the app is made available on Dec. 15, thousands of players who have requested as such will get a push notification that the game is ready to be downloaded to their device.
A new live-action Super Mario Run trailer also made its debut Wednesday. The spot features several people running and jumping, much like you'll do in the iOS app. 
And then there's aforementioned Miyamoto appearance in New York City's SoHo Apple Store. The creator of Mario, Zelda and Donkey Kong already appeared onstage at one of Apple's events in September. Now Miyamoto is headed to Apple's Prince Street store to discuss designing the game and share gameplay footage.
Super Mario Run release date: How to prepare your iPhone or iPad
Prior to Dec. 15, there are a couple of things you can do to pre-empt the release date of Super Mario Run. First, you'll want to tap the Notify button on the Super Mario Run App Store page (where you would normally find Buy or Get). This will ensure you're among the first to know when the app drops.
Next, you might want to clear some space from your iPhone or iPad that you plan on using for Super Mario Run. It's unclear at the moment exactly how much storage is required to download the app. Games are usually pretty large, and the augmented-reality Pokémon Go requires 200MB of space. The Super Mario Run download could be a beast.
Super Mario Run hits Apple's App Store on Dec. 15. Keep it tuned to Mic for more Nintendo news.