'Pokémon Go' Update: Starbucks promotion could mean a Gen 2 release later today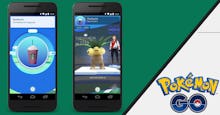 Editor's note: The Pokémon Go update is now live and the Starbucks promotion is up and running. However, as far as we can tell, it hasn't introduced any new Pokémon to the game.
Are you a Pokémon Go fan desperate for Gen 2 Pokémon — and for a Pokémon Go Frappuccino too? You're in luck: Niantic announced Thursday that the Pokémon Go brand partnership with Starbucks will go live as of 2 p.m. Eastern. Sometime Thursday, you should be able to go to Starbucks and get some kind of new berry-flavored drink. You'll also be able to fight over new Pokémon Go gyms at Starbucks locations. And you might be looking for some brand-new Pokémon.
Pokémon Go Starbucks update: New PokéStops and gyms confirmed
The new Pokémon Go promotion offers brand-new places to catch and battle over Pokémon, as long as you're willing to hang out near or in a Starbucks location. All 7,800 new PokéStops and gyms added as part of this promotion will be erected at company-owned stores. So even if you don't intend to purchase anything from Starbucks in the immediate future, the new Pokémon Go promotion has something to offer. 
Pokémon Go Starbucks update: Niantic embraces its grand future of brand partnerships
Internal documents supposedly leaked from Starbucks hit the web two days early, revealing the deal that Niantic officially confirmed Thursday. The key point of the Starbucks promotion is a new drink called the Pokémon Go Frappuccino, which is supposedly made with raspberry and blackberry flavors.
Thursday's announcement hints only vaguely at the release of new Pokémon. We suspect that Monday will bring new details.
Pokémon Go Gen 2 release date may be tied to Sprint deal instead
The Pokémon Go Sprint promotion was announced jointly by Niantic and Sprint on Wednesday, and the deal goes live on Monday. John Hanke, CEO of Niantic, also teased that we may see some new Pokémon added on Monday. 
The Sprint promotion will add more than 10,000 new PokéStops and gyms erected over Sprint, Boost Mobile and Sprint-RadioShack stores. Our guess is Niantic will wait for Monday, and the larger of the two branded deals, before introducing any new Pokémon to the game.
More Pokémon Go hacks, tips and tricks
If you're already smacking your lips at the prospect of gulping down a Pokémon Go Frappuccino, you may also want to check out Mic's Pokémon Go guides. Here's the new top 10 attackers list and the new top 20 rankings following the balance update, guides on post-update Chansey and Rhydon, everything you need to know about finding the long-awaited Pokémon Ditto, creating new PokéStops, how to maximize your chances of catching Pokémon and fresh information about how PokéStops distribute Pokémon eggs.
Dec. 8, 2016, 2:49 p.m. Eastern: This story has been updated.