'Fuller House' season 2 release date: What time can you watch new episodes on Netflix?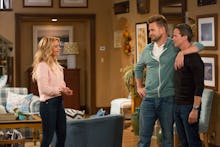 It hasn't even been a year since the first season of Netflix's Full House reboot, painfully titled Fuller House, hit the streaming service. But fans who can't get enough of DJ and Stephanie Tanner need not worry: Season two is already on the way.
The next batch of Fuller House episodes is coming to Netflix before 2016 even ends, making it the rare show that airs two full seasons in one calendar year. The episodes will become live on Netflix Friday, Dec. 9 at 3 a.m. Eastern, as is typical of Netflix's original series.
Fuller House was hardly a great show in its first season — getting castigated by critics didn't help build its buzz — but it was a hugely popular one. Plus, within all the half-hearted callbacks to the original Full House and some off-kilter episodic plots (remember when DJ, Stephanie and Kimmy Gibler went to a nightclub and met Macy Gray?), there was a pretty heartfelt story about coping through grief with the help of family.
It remains to be seen if Fuller House season two can improve on the original, but with those ratings, whether it creatively rebounds or not, chances are Netflix will be keeping it around for quite a while.