Is 'Overwatch' down? How to check for an 'Overwatch' DDoS and monitor server status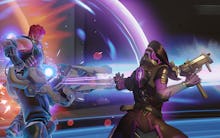 Is Overwatch down again? Since Blizzard's multiplayer shooter Overwatch relies on the internet and servers and all sorts of other complicated technology, things are bound to go haywire from time to time. Here's how to know if the Overwatch servers are down, experiencing some kind of distributed denial-of-service attack or downloading a patch update.
Is Overwatch down again? How to check
The first place you should look for information if you're having trouble connecting is the Blizzard customer support Twitter account. Usually, that's where information about server outages will pop up first.
If you live outside of North America, Blizzard has customer support accounts for several other regions as well, including Europe and Korea. To find a specific region's account, type "Blizzard CS" into the Twitter search bar and you should see a bunch of different options.
Blizzard's customer service Twitter tends to be pretty responsive to individual tweets, so if you're having trouble connecting and need some guidance, it wouldn't hurt to shoot them a tweet.
You can also check Downdetector's Overwatch page — the site maps outage data from a variety of sources to help give you a better idea of whether the problem is on your end or not.
If you suspect the problem is actually with your own computer, check Blizzard's troubleshooting page for instructions.
Is Overwatch down? DDoS attacks might be to blame
Sometimes Overwatch servers will go down temporarily for a patch update or scheduled maintenance, but Blizzard — and by extension, Overwatch — has recently been the target of several distributed denial-of-service attacks, better known as DDoS. In a DDoS attack, hackers purposely flood servers with massive loads of traffic with the intention of making them crash. 
These outages are usually temporary, and Blizzard's customer service Twitter is usually good about being open and transparent about what's going on.
More Overwatch news, updates, tips and tricks
Need some reading material while the servers are down? Check out the latest from Mic, including the official announcement of Overwatch's holiday event, fans' best ideas for holiday-themed skins, this weird story about players debating Bastion's gender on Reddit, information on Symmetra's upcoming rework, the latest details on season three of competitive play and a look at the new Oasis map on the PTR.