'Office Christmas Party' review: Not a true party movie and full of irksome stereotypes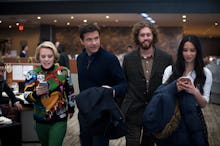 Office Christmas Party has its funny moments, but it's far from a comedy classic in the making. Writer-directors Will Speck and Josh Gordon deliver a film that's surprisingly heavy on backstory for a party movie. Or is it a party movie? The somewhat sincere plot prevents the main characters — played by Jason Bateman, Olivia Munn, T.J. Miller, Jennifer Aniston and Kate McKinnon — from ever truly letting loose a la Animal House. 
One moment, the audience is supposed to cheer on the protagonists as they attempt to save their company branch from closing. The next, we're supposed to get lost in their hijinks. Yet before we have the chance to let go, we're pulled back into the drama of a failing office and all of the personal relationships at stake. Thus, a movie that has the potential to get hilarious never does. Our attention is too divided for us to laugh long. There simply aren't enough gags and instances of the pure, uninterrupted fun characteristic of any real rager.
Since the movie seemed to be taking itself surprisingly seriously (relatively speaking), it was easy to hone in on some of its problematic stereotypes:
It's great that the film portrays Aniston in a position of power, but does she have to play the stereotypical ball-busting boss lady? While it's true that her softer side does come out toward the end of the film, it's too little, too late. Even for a comedy, her character is too one-dimensional. She's the epitome of the overly ambitious career woman. 
And what about the role of the security guard played by Da'Vine Joy Randolph? While it's encouraging to see people of color on the big screen (casting diversity remains an industry issue—remember #OscarsSoWhite?), it's disheartening that Randolph shows up as the stereotypical sassy black woman. Eventually, the character becomes the angry black woman, another trope that is annoying at best.
Likewise, it's unfortunate that the movie's coked-up party animal is a black man (played by Courtney B. Vance). Thumbs up for making his character, Walter, a businessman and not a drug dealer or a pimp, but cinema doesn't need another savage interpretation of this demographic. 
And last but not least, why is the brothel overrun by tough Eastern Europeans? The notable exception is Jillian Bell, who gives one of the best performances in the film. But even the Australian Abbey Lee, who plays an escort, puts on a Slavic accent to mimic the rest of her posse. 
Office Christmas Party almost makes up for these irksome stereotypes with its smart female protagonist and overall casting decisions. Munn plays a computer genius, which is definitely a refreshing role for a female character. Equally refreshing is the film's casting diversity. There are actors of all colors, shapes, and sizes, including Randall Park, Karan Soni, Sam Richardson and Fortune Feimster.
Even with these pluses, the film never lives up to its marketing. It's a good flick for getting your relatives out of your house for a couple of hours over the holidays, but it's unlikely something you will watch over and over again. Christmas Office Party hits theaters nationwide on Friday, Dec. 9.