What will happen in the 'Legends of Tomorrow' midseason finale? Episode 8 synopsis, promo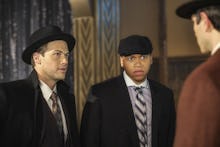 It's been several weeks since the last regular episode of Legends of Tomorrow season two. Last week's episode, titled "Invasion!" served as the finale to the CW's massive DC crossover, and delivered Legends of Tomorrow its best ratings ever. The show also skipped a week for Thanksgiving, so the last non-crossover episode of Legends of Tomorrow was "Outlaw Country" on Nov. 17, when Jonah Hex made his return to the series. However, the Legends are back Thursday night for its midseason finale — and they are in for a fight. 
Legends of Tomorrow will air its midseason finale, titled "The Chicago Way," Thursday, Dec. 8 at 8 p.m. Eastern, and a major character will be making their return.
Check out the official synopsis for season two, episode eight below:
Legion of Doom: When a new Time Aberration is discovered by the Legends, they find themselves headed to 1927 Chicago. The Legends quickly realize that they have been set up by Eobard Thawne (guest star Matt Letscher), Damien Darhk (guest star Neal McDonough) and the newest member of the Legion of Doom, Malcolm Merlyn (guest start John Barrowman). While everyone is trying to help fix what they think is the mission, Jax (Franz Drameh) encourages a reluctant Stein (Victor Garber) to share his secret with the other Legends. Stein is taken captive and Sara (Caity Lotz) must make the tough choice of either stopping the Legion of Doom or saving Stein. Meanwhile, Rory (Dominic Purcell) gets an unexpected visitor and is not sure how to handle it. Brandon Routh, Nick Zano and Maisie Richardson-Sellers also star.
The Legion of Doom
It has been teased for quite some time now that a villainous team will form opposite the Legends. That team, which will be called the Legion of Doom, will consist of Reverse-Flash, Damien Darhk, Malcolm Merlyn and former Legend Leonard Snart. 
Fans of the show will recall that Leonard Snart died at the end of Legends of Tomorrow's first season, when he sacrificed himself to save his partner in crime, Mick Rory. It has been known for a while now that Captain Cold would be making his return at some point, as Wentworth Miller (the actor who portrays Snart) signed a series regular deal across all Greg Berlanti's DC TV shows. 
The big question heading into the midseason finale is exactly how Captain Cold will return. Has he been resurrected? Is it due to Flashpoint? Or did Eobard Thawne just travel to a point in time before he was killed and recruit him? We will have wait and see to know for sure. 
The most interesting element of Snart's return is how Mick will react. Rory has always been the most reluctant hero on the team, because, well, he is a criminal. Will his allegiance be to his team or Snart once his partner returns? 
Check out the promo for Legends of Tomorrow's midseason finale below: