Today: Trump picks Andrew Puzder, opponent of raising minimum wage, to be labor secretary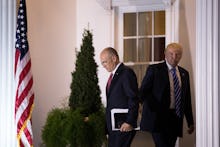 This is Mic's daily read on Donald Trump's America — and how it affects you.
Welcome to America's only coal-powered political newsletter. Would you like to receive this a daily email in your inbox? Subscribe here.
Key Stat:
— 3, the number of days Trump went without attacking an individual on Twitter.
Highlights: 
— Today: After three days of uncharacteristic restraint, Donald Trump attacked a union leader Wednesday night via Twitter.
— More: A fossil fuel ally who questions climate change will lead the Environmental Protection Agency.
— Even More: A federal judge has blocked the recount effort in Michigan.
— Yes, More: Trump has nominated the CEO of Hardee's / Carl's Jr. to be the next Labor Secretary.
— Where's Trump? Trump Tower in New York City, then Des Moines, Iowa, for the next "Thank You" tour rally.
—Hillary Clinton's lead over Trump in the popular vote:  2.68 million votes, 2 percentage points greater than Trump. (Cook Political Report)
Order up: Hardee's heads to Washington
Trump will reportedly choose fast food CEO Andrew Puzder — a minimum wage opponent whose restaurants violate wage laws, who has said he wants "to try" replacing workers with robots, and who has said ads with bikini-clad women eating burgers reflects his "personality" — to lead the top government department in charge of enforcing wage and sex discrimination laws. Puzder is a staunch critic of "overregulation" of the restaurant industry, arguing the Affordable Care Act and new labor laws have challenged his businesses. (Mic)
"Puzder would also oversee the Women's Bureau, an agency within the Labor Department established in 1920, which is the only federal agency with a mandate to represent the needs of working women in the creation and implementation of public policy."
An ad for Puzder's restaurants:
How will the GOP repeal Obamacare?
Make no mistake: Republicans plan to vote to repeal the Affordable Care Act as early as Jan. 3. But what happens next is unclear.
The dilemma is fairly simple. When the Affordable Care Act passed, it made major reforms to all aspects of the health insurance market. Health insurers, state governments, hospitals, pharmaceutical companies and other groups all made adjustments to work with the law. Since 2010, more than 20 million Americans have received insurance through the law. If Republicans move too quickly, without a plan to keep those citizens insured, they could be directly responsible for causing millions of Americans to lose their coverage. A partial repeal could double the number of Americans with no insurance. (Mic)
The GOP is acutely aware of this predicament. Some senators want three years between a vote to repeal and implementation of a replacement, but Republicans in the House may not wait that long. (Politico) This tactic could lead to uncertainty, with "repeal and delay" leaving fewer insured Americans, higher prices and no demonstrable improvements for an uncertain length of time. (New York Times)
Trump's latest target
After going a whopping three days without an incident, Donald Trump chose the latest victim of his personal brand of cyberbullying: Chuck Jones, president of United Steelworkers 1999 in central Indiana.
Why the fighting words, Mr. President-elect? Jones used a recent appearance on CNN to rain on Trump's victory parade, noting that Carrier is only "halfway" delivering on Trump's promise because 550 of his members are still losing their jobs, and Trump took credit for saving another 350 that were not scheduled to leave.
It did not take long for the hate to roll in. After Trump's tweet about Jones, the union leader began to receive phone calls with messages like, "You better keep an eye on your kids," and, "We know what car you drive." (Washington Post) Trump's brand of intimidation and punching-down is "dangerous to a democracy," former Labor Secretary Robert Reich said on CNN Wednesday night.
Navigating Trump's Twitter: How should everyday Americans be expected to comport themselves if any one of them may be attacked as "terrible" by the leader of the free world? Perhaps more dangerous than Trump are some of his 17 million followers, many of whom have been openly bigoted, sexist and violent toward opponents of Trump on social media.
"Ally of the fossil fuel industry" to lead EPA
It could be argued the Environmental Protection Agency's charge of safeguarding the environment disqualifies Scott Pruitt from leadership of the department. Under President Barack Obama, the EPA has moved aggressively to limit greenhouse gas emissions, improve water quality near power plants and curb the effects of climate change. Pruitt opposes these measures, writing earlier this year that "scientists continue to disagree about the degree and extent of global warming and its connection to the actions of mankind." (National Review)
Keeping good on his promise in that article to "dissent," Pruitt, the Oklahoma attorney general, has sued the Obama administration — including the EPA itself — over federal policies aimed at preventing climate change. (Washington Post) Critics argue Trump's pick of Pruitt puts focus on opposition to regulation, rather than protecting the environment. In fact, Pruitt once sent the EPA a letter using language that fossil fuel lobbyists sent to his office. (Time)
"It's a safe assumption that Pruitt could be the most hostile EPA administrator toward clean air and safe drinking water in history," the head of research and advocacy organization the Environmental Working Group told the New York Times. Pruitt will be a boon specifically for the coal industry, which has railed against increased regulations under Obama.
Though earlier this week Trump met with Al Gore and Leonardo DiCaprio — two leading advocates in the fight against climate change — his pick of Pruitt signals that the president-elect is unlikely to move away from his position that climate change is a hoax created by the Chinese. (Twitter)
News and insight you cannot miss:
— "We have no idea what Gen. Kelly's views on immigration are or what his experience is. That's a problem," says a conservative anti-immigration leader. The president-elect's pick of Marine Gen. James Kelly to lead Homeland Security troubles some Trump supporters who hoped to see a more hardline appointment to guarantee construction of the Mexican border wall, deportations and more. (YahooNews)
— "A federal judge who ordered Michigan to begin its recount effectively ended it on Wednesday, tying his decision to a state court ruling that found Green Party presidential candidate Jill Stein had no legal standing to request another look at ballots." (Wall Street Journal)
— The founder of World Wrestling Entertainment will run Trump's Small Business Administration. Twitter erupted with GIFs of Linda McMahon fighting in the ring. (Washington Post)
— Is Jeff Sessions lying about championing desegregation? "Sessions himself claims to have been a champion of desegregation. ... The Atlantic could not find evidence Sessions filed any new school desegregation lawsuits." (Atlantic)
— The bottom half of American wage earners have seen no effective wage increase since 1980. The researchers behind that statistic believe it helped fuel Trump's campaign. (Mic)
— How "Moral Mondays" in North Carolina led to the downfall of Gov. Pat McCrory, and what that resistance teaches those opposed to Trump about how they can fight back. (The Nation)
— More harm driven by fake news: A Florida woman was charged with threatening to kill the parent of a child killed in the shooting at Sandy Hook elementary in Connecticut in 2012. Her reason? She believes the shooting never happened. (WHIO)
A view from Trump country: A Trump cabinet breakdown
Yesterday, we reviewed Trump's cabinet. Today, we check in on how Trump's supporters have judged his picks.
A new Morning Consult/Politico poll shows more than half of Americans believe Trump's cabinet appointments are agents of change. But when asked about where exactly the people Trump has nominated to his cabinet will bring change, the top response was "don't know/no opinion."
This illustrates the disconnect between the hyper-analysis of each Trump appointment and what most Americans actually see. Even as headlines about cabinet picks continue to dominate, the poll results show many Americans mainly follow the major story, not the nitty-gritty of who will run Commerce. Take Trump's choice of Pruitt to lead the EPA: After a few meetings with top climate change activists, Trump put forward a nominee who is the direct enemy of Obama's EPA. But many Americans will be more likely to click headlines about Trump moderating his position with Gore or DiCaprio over stories on Pruitt's hard-right views — another way Trump manipulates the media to his advantage.
Same subject, two views: How America should generate energy
Cleaner coal should be a priority for Washington, Terry Jarrett in the Topeka Capital-Journal. "Instead of consigning coal to the scrap heap – and triggering mass unemployment that would necessitate tens of billions of dollars in federal aid to coal country residents – Washington should focus on efforts to make coal more environmentally friendly." (Topeka Capital-Journal)
Why we must quit coal, Greenpeace International. "The coal industry stands in the way of a safe and healthy future for us all. From destructive mines to polluting stacks and toxic ash dumps, coal lays waste to our environment. Coal threatens our most basic needs: clean water to drink, clean air to breathe and a safe climate." (Greenpeace)
The loyal opposition: How Democrats are preparing for 2020
On Wednesday, Joe Biden backtracked on his recent statements about running for president in 2020. "I have no intention of running for president in 2020," Biden said after generating a flurry of stories (including by this writer) about his comments. (CNN)
Biden bowing out (for now) leaves no dearth of candidates for the contest against Trump in four years. Mic's Stefan Becket explores how several Democrats, including Senators Elizabeth Warren and Cory Booker, are laying the groundwork for a 2020 presidential bid. (Mic)
Over at Vox, Jeff Stein provides a breakdown of the anti-Semitism allegations swirling around Keith Ellison — controversy that has led to some stumbling by the frontrunner to lead the Democratic National Committee.
Snippets
— Trump will reportedly turn over operation of his real estate business to his sons, but maintain a financial stake in the company. (New York Times)
— "I just wanted to do some good and went about it the wrong way." The Washington, D.C., "pizzagate" shooter speaks to the New York Times.
— Latinos report more than twice as much discrimination as a decade ago. (Mic)
— Senate Democrats are taking heat for employing very few minorities in top staff positions, shedding light on the fact diversity is still very much a problem in Washington. (Politico)
— Trump may let undocumented immigrants who entered the U.S. at a very young age remain in the country, reversing earlier comments. (Mic)
Stay up-to-date on America's changes under President-elect Donald Trump with this newsletter. Every weekday we'll cover the biggest Trump news and how Americans have supported him, opposed him and more. Subscribe here.