Seth Meyers has a poignant message for the media on the alt-right: Call them Nazis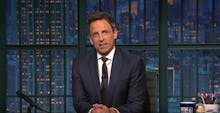 Donald Trump's election win wasn't just unexpected, it thrust some of his most ardent supporters into the spotlight. That included the so-called "alt-right," the loosely organized, and mostly digital movement of white nationalists who have been celebrating Trump's victory. But the ways in which the media has described the group has irked Late Night host Seth Meyers, who slammed its coverage on Wednesday's show. 
Citing articles from the likes of CNN and the Los Angeles Times, who have likened the "alt-right" to hipsters and dapper, well-dressed individuals, Meyers points out that they're using a term that the group ultimately chose for themselves. 
"You don't have to use it," Meyers explained. "If zombies wanted to be called 'post-life brain foodies,' we'd still call them zombies. If it looks like a duck, if it talks like a duck and steps like a goose, it's a Nazi." 
Perhaps the most egregious example, however, came from the Atlantic, which labeled an article examining the movement with the headline, "Are Jews White?" 
"I don't know," Meyers added. "Do they subscribe to the Atlantic?" The host noted that anybody who would even need to ask that question to begin with isn't doing it because they "love them" (To that end, former Grand Wizard of the Ku Klux Klan David Duke responded to the article on Twitter with an emphatic no). 
"Get your shit together media," Meyers concluded. "Calling Nazis and white supremacists the 'alt-right' is like calling O.J. Simpson a 'cutlery enthusiast.'" 
Watch the segment from Wednesday's Late Night below: