Arizona Weed Laws 2017: What to know about legalization after Prop 205 defeat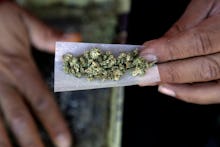 Voters in four states this election approved a measure to legalize marijuana for recreational use. Not among those states was Arizona, where Proposition 205 was defeated 51.32% to 48.68% in the November election.
The ballot measure, known as the Arizona Marijuana Legalization Initiative, would have allowed "a person who is at least 21 years of age to lawfully possess and use one ounce or less of marijuana." It also would have established a department of marijuana licenses and control to regulate the industry and impose a 15% tax on the sale of the drug; the tax revenue would have gone toward the state's marijuana infrastructure, schools and substance abuse programs. 
Where does the Grand Canyon State stand after the Yes on 205 campaign came up short?
Arizona's current marijuana laws
Medical marijuana has been legal in Arizona since 2010. 
As of May, there were 99,895 qualifying patients in the state, according to a report by the Arizona Department of Health Services. Most were using it to treat chronic pain.
But Arizona is also home to some of the toughest marijuana laws in the country. Possessing pot in the state is a felony carrying a maximum sentence of 3.75 years, according to the National Organization for the Reform of Marijuana Laws, and "African-Americans in Arizona are 2.4 times more likely to be arrested for marijuana possession than whites despite similar rates of use," according to a report by the American Civil Liberties Union cited by Ballotpedia.
Arizona Congressman Ruben Gallego said in June that legalization would benefit minorities in the state, make the state safer and help the economy, the Phoenix New Times reported.
After Prop 205
According to the Cannabist, a division of the Denver Post covering weed, research suggests that though Arizona's medical marijuana market will continue to grow over the coming years, its pace of growth will begin to slow due to market saturation.
Arizona's legal cannabis industry would have swelled to 1.2 billion dollars by the year 2020 had Proposition 205 passed, according to projections by the research groups New Frontier and ArcView Market Research cited in the Cannabist. Instead, it is expected to increase from $367 million in 2016 to $681 million in 2020. 
With California and Nevada joining states like Colorado in legalizing recreational pot use, Arizona is surrounded on three sides by states where weed will be legal. Arizonans looking for pot could, then, make a less than four-hour drive to a town across state lines to obtain it legally — which could hurt medical marijuana sales in the Grand Canyon State and, as the report cited in the Cannabist notes, increase pressure on the state to legalize recreational use in the future. 
J.P. Holyoak, chairman of the Campaign to Regulate Marijuana Like Alcohol, said in a statement that pot reform advocates will continue to fight the "prohibition" of marijuana and that he believes Arizona will be in the next round of states to legalize it for recreational use.
"We ran a positive, fact-based campaign that fostered a much-needed public dialogue about this subject, and we are confident it will lend to positive change in the future," Holyoak said. 
But Maricopa County attorney Bill Montgomery, a Republican prosecutor who staunchly opposes marijuana legalization and helped defeat Prop 205, said recently that he hopes the incoming Trump administration will "end the charade" of marijuana legalization in the United States.
"Today we have a number of states, through their own process of declaring something medical, that created a patchwork system of regulations and programs around the country that are in direct conflict with federal law," Montgomery said in a press conference.
President-elect Donald Trump has indicated he supports medical marijuana and a state's right to choose whether recreational use is legal. Jeff Sessions, Trump's pick for attorney general, has had a "long and antagonistic attitude toward marijuana," according to Politico.