15 gift ideas for dad that will make him love you more than your siblings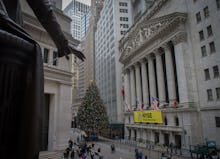 When it comes to your dad, he needs more than another necktie, BBQ spatula, or gift certificate to Kohl's. From stocking stuffers to yard games, we picked the best dad gifts out there.
Editor's note: Prices and product availability are subject to change throughout the holidays. 
For the beers
Can't you just see this cast iron bottle opener that is shaped like a rustic fish ($9.99) hanging on a nail in dad's garage? 
Travel goals
Give him a serious wanderlust to-do list in map form with this very pretty national park map, honoring the parks' 100th anniversary ($19).
A reason to get out of bed
This coffee koozie ($30.47) is made out of vegetable tanned leather and can be customized with an imprinted message. Even better, it's handmade to fit a standard size Ball mason jar for easy cleaning.
A mug for his mug
This brown ceramic shaving mug ($95) comes with a matching brush, so dad can lather up his own mug and keep it shaved, fresh and clean. Plus, he can technically drink out of it, if he wants. Who knows with dads?
A must-have for any corny fellow
There's really no better game to get for the corniest guy you know. The Field Club Stained Tournament Cornhole Set ($87.29) comes with a carrying bag and is stained with handsome rosewood.
Some toasty house shoes
These handmade slippers ($26.59) are made with sheepskin leather suede and fur to keep his dad feet extra toasty .
A place to put everything
This solid oak Dad HQ ($25.99), is complete with a spot for a watch, a phone dock, a wallet slot and hooks for his keys.
An honest phone case
In case you need a really honest, slightly passive aggressive stocking stuffer, this phone case ($19.95) has you covered.
A gin winner
Turn any flavorless liquor into a unique, one-of-a-kind herbal infused liquor with this "gin" kit ($50) that comes with two glass bottles, a funnel, sieve and herbal blend of juniper berries, coriander seeds, fennel seed, cardamom pods and more.
Recipes shared from dad to dad
Anthony Bourdain's latest book — his first cookbook in more than 10 years —features recipes he likes to cook for his friends and family, mainly, his daughter ($22.50).
Gear for the garden
This tote bag ($27.99) is equipped with essentials for a gardener of any skill set: a digger, weeder, rake, trowel, pruners and transplanter, with gloves and a spray bottle.
Tools of some sort
Whether you know which tools he's lost over the years, or you don't and you still want to get him something to replace is old, worn out tools, this homeowner's set from Stanley ($48.94) is as good a guess as any. Among its 65 pieces are a hammer, socket wrench and sockets, pliers and more.
A trip into the modern era
Does your dad have a tablet yet? Get him the Amazon Fire ($89) already. It's on sale for the holidays and it comes with most of the bells and whistles that fancier, more expensive tablets boast.
The best knife
Upgrade his kitchen skills with a powerful triple-laminate Japanese petty chef knife from Best Made Co. ($98): its stainless surface with a high-carbon core means he'll slice through anything.
A turntable for the yard
Let him take his record collection on the road with Crosley's Messenger turntable ($89.95), a portable, battery-powered record player that he can connect to speakers wirelessly via bluetooth. DJ Dad will now spin at a BBQ near you.
This month, Mic Essentials brings you handpicked deals, reviews, recommendations and gift ideas. For more ideas, see our lists for gifts for badass feminists, awesome health and fitness goodies and jewelry. If you buy something through a link on this page, Mic may earn a small commission.