Christmas-themed party ideas 2016: Get into the holiday spirit with these 13 festive ideas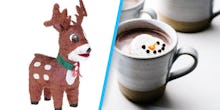 Yay —  you're hosting a holiday party! But after hanging some lights and picking the right Christmas music playlist, what do you put on the table? 
Packaged candy canes and gingerbread house kits are cute and all, but you can one-up everyone else's Christmas-themed party with these festive and easy party ideas that will lock down your Christmas party legacy for so many seasons to come. 
Reindeer piñata!
This reindeer-shaped piñata is stuffed with mini bottles of booze and candy and comes with a blindfold, stick and string to set up your own piñata-smashing Christmas chaos. Guests will love it. Whoever is responsible for cleaning, not so much. $89.99 at Nipyata.com
Mason jar terrariums
So much more chic (and delicious!) than some stodgy old icing-covered house, prepare these sugar-filled terrariums as decor or add a DIY element to your party by letting guests assemble their own with a pre-baked cookies and fillings bar. Get the instructions here.
Holiday punch bowls
Take the pressure off during the party and have a selection of pre-prepared holiday cocktails ready for guests to serve themselves. Get the instructions here.
Cheese wreath
People love cheese. People love wreaths. The plating idea is so obvious, you'll wonder why you hadn't thought of it yourself! Get the instructions here.
Elegant cheese plate
To accompany that beautiful cheese wreath — a cheese plate! Add some crunchiness, sweetness, savoriness and a touch of holiday charm to your celebratory cheese board. Get the instructions here.
Chipotle and rosemary roasted nuts
You may not be able to roast chestnuts on an open fire, but you certainly can roast these flavorful nuts that will fill your party with cozy holiday scents. Get the instructions here. 
Cinnamon dulce latte cake with Marscapone frosting 
Make your own winter wonderland with this sweet cake recipe. Get the instructions here.
Chocolate Christmas tree cupcakes
So festive and so cute, these cupcakes are easier to make than they look and are seriously impressive. Get the recipe here.
Eggnog cheesecake with gingersnap crust and pomegranate glaze
Eggnog isn't for drinking — it's for baking! You're welcome. Get the instructions here. 
Mint snowman marshmallows
You haven't lived if you haven't had homemade marshmallows. And if they weren't shaped like snow people, well, get on it. Get the instructions here.
Graham cracker toffee
This crispy sweet snack is almost too easy to make, and (not shockingly) easier to eat. Get the instructions here.
Mulled white wine
Forget about chilling your holiday bottles of white wine and get them heated up with all the best seasonal spices. Get the instructions here.
Homemade peppermint mocha 
If you're going for a cozy vibe, this homemade peppermint mocha is a must. And yes, you can spike it. Get the instructions here.