2016 in Photos: 20 moments that will go down in history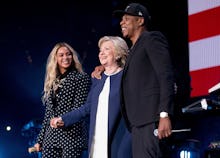 Whatever you may think of 2016, it has not been short of momentous events. 
From the U.S. presidential election upset to Olympian Ryan Lochte's fabricated mugging story in Rio de Janeiro to the Pakistani chaiwala's 15 minutes of fame, there was no dearth of drama from highbrow to lowbrow to every brow in between.
Here are 20 of some of the biggest moments of 2016, in no particular order. 
Beyoncé and her ladies get in formation at the Super Bowl halftime show in February.
Two police officers in Baton Rouge, Louisiana, charge at protester Ieshia Evans, as she demonstrates against police brutality in July.
In August, 5-year-old Omran Daqneesh is pulled from the rubble of his shelled home in Aleppo, Syria.
Protesters in Athens throw fireworks at police as people gather to commemorate a teenager killed by police in 2008.
In May, President Barack Obama hugs 8-year-old Mari Copeny, aka Little Miss Flint, in her home of Flint, Michigan.
In September, Donald Trump also meets Little Miss Flint.
A Chinese panda base introduces more than 20 giant panda cubs, celebrating the species reclassification from "endangered" to the less-dire "vulnerable."
Hillary Clinton is seen hiking in the woods of Westchester, New York, the day after her presidential election upset to Trump.
Titanic co-stars Leonardo DiCaprio and Kate Winslet hug it out in February at the Academy Awards, where DiCaprio finally wins his best actor Oscar.
Ibtahaj Muhammad becomes the first hijab-clad American to compete — and win a medal — in the Rio Olympics.
The Obamas pose for an Essence photoshoot that reminds the world why they are — full stop — #RelationshipGoals.
Trump gives his victory speech after winning the presidential election.
Pakistani chaiwala Arshad Khan becomes an internet sensation.
Clinton becomes the first female U.S. presidential candidate nominated by a major political party.
Usain Bolt, the fastest man in the world, gives the cameras a cheeky grin while competing in the 100-meter semifinal in the Olympics.
A Kurdish family stands in their devastated home in southeastern Turkey, where the government is engaged in an offensive against Kurdish separatists.
U.S. swimmer Ryan Lochte — and his dynamic hair — competes at the Rio Olympics, where he is later caught in a lie about getting mugged at gunpoint.
Ex-Stanford University student Brock Turner walks after serving only half of a six-month jail sentence for sexually assaulting an unconscious woman.
Obama meets with Trump in the Oval Office after the election.
Fans dance at a Prince gathering in the rock star's hometown of Minneapolis, hours after his death in April from a drug overdose.