Nintendo Switch Exclusive Games: 'Seasons of Heaven' screenshots revealed ahead of release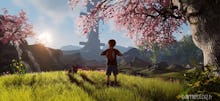 The March release of the Nintendo Switch console is just a few months away, and information about what kinds of games fans can expect is finally starting to trickle out. One such Nintendo Switch exclusive is Seasons of Heaven, a gorgeous-looking adventure game based on a French novel of the same name. 
Nintendo Switch exclusive games: Seasons of Heaven revealed
According to Gameblog, Seasons of Heaven is about a young boy with Asperger's syndrome named Yann and his French bulldog Ani. Players will be able to control both of them as they navigate a post-apocalyptic world with a group of other survivors. Though it wasn't mentioned in the game's description, the Amazon page for the Seasons of Heaven novel notes that Yann and Ani share a telepathic connection.
No release date or pricing information for Seasons of Heaven have been released yet, but Mic will keep you in the loop.
More Nintendo news, updates, tips and tricks
For more on Nintendo, check out Mic's latest, like Jimmy Fallon's debut of Legend of Zelda: Breath of the Wild gameplay running on Nintendo Switch, rumors the Switch will be able to emulate Gamecube games, more Legend of Zelda: Breath of the Wild gameplay, speculation on an Android release date for Super Mario Run, and a review roundup of Super Mario Maker for the Nintendo 3DS.