Democrats and unions slam Trump's pick for labor secretary, fast food CEO Andrew Puzder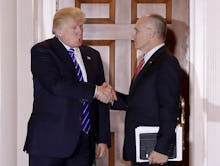 Democrats and organized labor groups are coming out strongly against President-elect Donald Trump's reported selection for secretary of labor, Andrew Puzder.
Puzder, 66, is the longtime CEO of CKE Restaurants, the parent company of fast food chains Hardee's and Carl's Jr. He is a staunch opponent of significant increases to the federal minimum wage and supports repeal of the Affordable Care Act, arguing the regulations in the law have hurt businesses. He has also criticized a stalled Obama administration measure to raise the salary threshold for workers to receive overtime benefits.
The news of Puzder's impending nomination was first reported by the Wall Street Journal on Thursday. On a conference call with reporters, Trump transition spokesman Jason Miller declined to confirm the nomination but said additional Cabinet selections could be rolled out later Thursday.
Democrats and labor unions didn't wait for an official announcement before blasting Trump's latest Cabinet appointment, casting Puzder as an opponent of the very working class voters who propelled Trump to victory in November.
Fire away: Sen. Patty Murray of Washington criticized the appointment, saying in a statement that Trump "has sent another clear signal that he has no intention of fulfilling his campaign promise to put workers and retirees first." 
Murray is the top Democrat on the Senate Health, Education, Labor and Pensions Committee, which will hold the confirmation hearing for Puzder if he is the nominee.  
Murray said she is "eager to meet Mr. Puzder to discuss in detail his plans and vision for the agency" before saying she was "deeply concerned" by his stances on minimum wage, equal pay and workplace discrimination. She promised he would be subject to a "rigorous vetting and hearing process."
Puzder is a longtime opponent of efforts to substantially increase the federal minimum wage, arguing that doing so would cause employers to cut jobs or raise prices. According to the Wall Street Journal, while advising the Trump campaign, Puzder argued the federal minimum wage should not exceed $9 an hour.
The Service Employees International Union, which represents 1.5 million workers and has been on the front lines of efforts to raise the minimum wage, released a statement Thursday afternoon charging that Puzder "has used his position to line his own pockets at the expense of workers."
"In 2012, Puzder made $4.4 million, a full 291 times more than the average food worker," SEIU International president Mary Kay Henry said. "Working Americans aren't fooled by the anti-worker Trump-Puzder vision for America."
Puzder is also under fire for CKE's labor practices during his time as CEO. Nearly 60% of Hardee's and Carl's Jr. restaurants inspected by the Labor Department in recent years, including those owned by franchisees, were found to be in violation of the Fair Labor Standards Act, according to an analysis by Bloomberg BNA.
"If somebody is constantly in violation of labor laws in his own companies, how could he carry out the role of enforcing these same laws?" June Zeitlin, director of human rights policy for the Leadership Conference on Civil and Human Rights, said on a conference call organized by the National Employment Law Project, which supports the Fight for $15 movement to raise the federal minimum wage.
Christine Owens, executive director of the NELP, called the nomination "like giving the fox the keys to the henhouse."
"On specific issues where Mr. Puzder has written extensively, spoken about extensively, he has evinced an attitude and approach — to working people, to the laws that the Labor Department administers and enforces, to the basic workplace standards that we all need to be able to rely on — that is antithetical to the role of the secretary of labor," Owens said on the NELP conference call.
Puzder would be the 13th Cabinet-level position filled by Trump so far in his transition, with 43 days until his inauguration. Even with a salary and compensation of $4.4 million in 2012, Puzder would likely be on the lower tier of Trump cabinet members in terms of wealth, whose combined net worth exceeds a shocking $14 billion.