'Captive' Netflix release date: What time will the new docu-series premiere?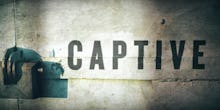 In Captive, Netflix shines a light on some of the most high-profile hostage cases. 
Producer Doug Liman, director of The Bourne Identity and Edge of Tomorrow, secured access to a handful of the most gripping cases that have been kept away from the public for years. The series looks at the challenges and risks it takes to resolve hostage situations and all that is involved. 
Captive is another addition to the true-crime trend and follows the streaming service's Amanda Knox documentary released in September.
The style of Captive
Over the series' eight episodes, Captive looks at different real-life hostage-taking situations from around the world. The series combines interviews with its subjects mixed with re-enactment scenes, providing layered looks at the unreal situations. It tackles each case from different angles and includes interviews with the victims and their families, negotiators and even the kidnappers themselves.
When and where to watch Captive
The gripping docu-series will be released on Netflix on Friday, Dec. 9. Following the release pattern of most Netflix original series like Gilmore Girls: A Year in the Life and The Crown, the eight-episode series can be expected on the streaming service at 3 a.m. Eastern.