'Barry' Netflix release: The President Obama biopic America needs right now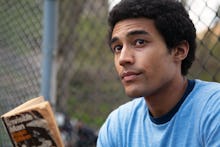 With the year coming to a close, it's evident that several people have made an effort to preserve the legacy of our soon-to-be exiting President Barack Obama. In late August we were gifted with Southside with You, a film that takes place during the entire first date between none other than Barack and Michelle Obama, and on Dec. 18 Netflix will release Barry, which goes back to Obama's days at Columbia University. 
Barry first premiered at the Toronto Film Festival to positive reception, enough so that Netflix picked it up. Directed by Vikram Gandhi, the movie takes us to 1981, where a college-aged Obama is in the midst of dealing with New York City life and everything that accompanies that. 
"Barry emerges as an involving and credible portrait of a smart young man with a good deal of growing and learning yet to do," Todd McCarthy wrote in his review for the Hollywood Reporter. "So different was Obama's background to anyone else who has ever become president of the United States that, at moments during the film, it's impossible not to marvel at how it actually came to pass." 
Barry will be released on Netflix Dec. 16. The film stars Australian actor Devon Terrell as Obama, Ashley Judd, Jenna Elfman, Anya Taylor-Joy, Jason Mitchell, Ellar Coltrane and Avi Nash.