Why Is Candace Cameron-Bure leaving 'The View'? 'Fuller House' star explains departure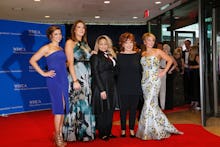 Candace Cameron-Bure is not Superwoman, and she's letting her fans know it. 
Bure, who has co-hosted The View since 2015, announced her departure from the daytime show on Thursday. 
"I'm very happy to be back, but it's a little bittersweet for me today because I'm announcing that I will be leaving The View," she said, adding that her commitments to the Hallmark Channel and the Netflix series Fuller House, which result in a lot of traveling between the East and West Coast, have left her overbooked. 
The decision, Bure said, "wasn't easy," and her co-hosts expressed their support for her deciding to spend as much time as she could with her family.
"I've been trying to be Superwoman, but I'm going to not try anymore," Bure said.
Bure is no stranger to television. As a child actress, she appeared in various films before landing the role of Donna Jo "DJ" Tanner on Full House. She returned to the character in 2015 for Fuller House; the second season begins Friday.
Bure's exit is one of many recent departures from The View. Raven-Symoné will also be departing for a spinoff of her Disney TV show That's So Raven, which Bure guest-starred on in 2006. During her time as a host, Symoné made headlines for her outspoken, controversial opinions, resulting in an online petition to remove her from the show. Michelle Collins also left after less than one year on air. 
Watch Bure's announcement below.