Chuck Jones, the Carrier union leader Trump called out on Twitter, is now getting threats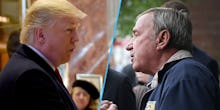 President-elect Donald Trump is known for high-profile, online feuds with politicians and celebrities — but this week he went after Chuck Jones, the Indiana union leader, and the type of person who showed up to a meeting with Indiana Gov. and Vice President-elect Mike Pence back in March wearing blue jeans and sneakers. 
And not long after Trump set his sights on Jones, the hate and the threats from Trump's supporters started rolling in.
The back-and-forth between Jones and the president-elect began last week, after Trump celebrated negotiating a deal with Indianapolis-based manufacturer Carrier that saved, as he put it, "over 1,100" jobs. Jones, president of the United Steelworkers 1999, the union that represents Carrier workers, said Trump was misrepresenting the situation.
Only 730 jobs that had been at risk of moving to Mexico would stay in the U.S., Jones said — a number that Carrier confirmed to the Washington Post — and 500 people would still lose their jobs. By claiming he has saved "over 1,100" jobs, Trump had, as Jones told the Post, "lied his ass off."
Trump appeared to respond to Jones' interview with the Post by tweeting out a direct accusation, saying that Jones "has done a terrible job representing workers." 
"No wonder companies flee [the] country!" he added.
Jones told the Post that soon after Trump made his disparaging remarks, Jones' phone lit up with angry and threatening messages. 
One person said "we're coming for you," the Post reported, others told him to "keep an eye on" his children.
But Jones told the newspaper that he's focusing on the work at hand for his union — and he thinks Trump should focus on his own work, too. 
"He needs to worry about getting his Cabinet filled," Jones told the Post, "and leave me the hell alone."