The best podcasts of 2016 you can binge in the new year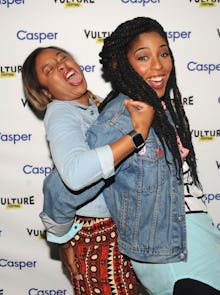 2016 was a rough year in many ways, but good art often comes from bad times. Podcasts are no exception, as the past 12 months gave rise to a number of excellent newcomers as well as cementing popular mainstays. If you're looking for some fresh entertainment for the new year, here are six podcasts you should consider listening to. 
The newest member of this list, See Something Say Something, is already off to the races following its inception in October. Ahmed Ali Akbar hosts the Buzzfeed-produced podcast about being Muslim in America — an especially necessary and relevant dialogue in the wake of Donald Trump's election.
Popular Twitter personalities Desus Nice and The Kid Mero host this hilarious podcast covering an array of topics from the perspective of two native New Yorkers. Bodega Boys grew such a following that Viceland, Vice's cable network, gave the duo a late night television show in the same vein called Desus & Mero.
NPR's Code Switch is essential listening (and reading — it originated as a blog) for anyone attempting to understand race and identity in America. NPR journalists Gene Demby and Shereen Marisol Meraji delve into a wealth of complicated subjects like the concept of objectivity for minority journalists and reaction to the Nate Parker rape allegations.
Stand-up comic and author Phoebe Robinson and former Daily Show correspondent Jessica Williams host this entertaining roundtable on pop culture produced by WNYC. The real-life BFFs weave through topics ranging from millennial dating culture to life in New York, and more — all from the perspective of a black woman. High-profile guests like Broad City's Ilana Glazer are known to drop in every now and then.
Yet another terrific NPR podcast, How I Built This examines the trials and tribulations of well-known entrepreneurs and start-ups from around the globe. Told in a narrative style from beginning to present, the podcast tells the stories of high-profile brands like Instagram, Airbnb, Samuel Adams beer and so on. Necessary listening for any budding CEOs out there.
Best-selling author and New Yorker staff writer Malcolm Gladwell travels back in time to reinterpret the past in this 10-part podcast. The people, places and events Gladwell examines aren't necessarily key turning points in the traditional sense of history, but rather ones that feature impacting themes that were overlooked or misunderstood at the time.