The truth about United charging for overhead storage — and why airfare costs are rising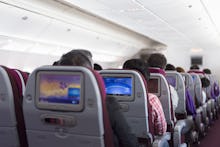 Flying sucks and rarely feels cheap enough, so it's no wonder people freaked out after the Washington Post resurfaced news Tuesday suggesting United Airlines might eliminate free use of overhead bins on flights.
Outraged consumers, including actor Daniel Dae Kim, took to Twitter to complain and protest the change with an online petition, which has garnered more than 2,500 signatures as of publication.
The anger makes sense. Whenever one airline begins charging for an amenity, others tend to follow, as Wired points out. When American Airlines announced in 2008 they would start charging to check bags, people were outraged for moment. But within weeks, the other airlines signed on, and today it's a commonly accepted fee.
There's just one problem: It's not quite true to say United will be charging for the use of overhead bins. Technically, according to United, tickets for seats that lack bin storage are actually a new option called "basic economy" — a price tier below standard economy class, which will continue to exist and offer free overhead space.
The pricing on the new "basic economy" fares, which will roll out in spring 2017, would be comparable to those from discount carriers like Spirit, said Jonathan Guerein, a spokesman for United.
For comparison's sake, a round trip United flight in mid-January from Chicago to New York currently costs more than $110. A Spirit flight on the same dates would cost less than $70 total.
But Guerein could not provide any precise price ranges for the new United fares, simply confirming that the new "basic" prices would be lower than for standard economy. In addition to giving up access to the much-discussed overhead bins, you'll have to board last and won't get to choose your seat if you choose the lower fare.
There's certainly a pragmatism to the change, said Jason Clampet, co-founder of the travel website Skift: Every amenity you might get on a flight costs money, so there's an argument for not charging customers for amenities they don't actually need.
Discount airlines have followed this a la carte model for some time, Clampet said, and Spirit has charged customers for carry-on bags since 2010. 
That's the opposite of the tack taken by airlines like Delta, which announced on Thursday that it would be bringing back meals in coach on select flights with an eye to improving customer "experience."
"It's lazy journalism, mainly," said Clampet, when asked about the freak-out over United's new fare tier. "These fares are there to compete with Allegiant, Spirit, Frontier and the other discount airlines where the fares are like $35."
But price-conscious consumers might still want to watch out.
If you're gripped by wanderlust, it's probably a good idea to pull the trigger on flights sooner rather than later, since there is reason to believe consumers will be paying more to fly soon: New carrier data suggests airlines' profits will slide in 2017, and higher oil prices may lead to airfare price hikes.