Yoko Ono makes an earnest plea for gun control on the anniversary of John Lennon's death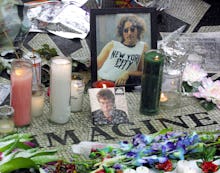 Grief has no timeline. An injury decades old can feel raw as new given the right reminder or circumstance. Dec. 8 seems to be one of those for Yoko Ono.
Thursday marks the 36th year since Ono's husband, John Lennon, shot and killed outside his home by Mark David Chapman. The artist honored that memory on Facebook by sharing stats on gun violence and prayers for the victims it takes.
"Every day, 91 Americans are killed with guns," she wrote. "We are turning this beautiful country into a War Zone. Together, let's bring back America, the green land of Peace."
The post comes with a macro sharing that over 1,200,000 people have been killed by guns since Lennon's death, the stat superimposed over a picture of Lennon's bloodstained glasses.
"The death of a loved one is a hollowing experience," Ono continued. "After 36 years, our son Sean and I still miss him."
Lennon's son Sean — also a musician, who most recently released Monolith of Phobos with Claypool Lennon Delirium — honored his father in his own way. He shared a picture via Instagram of his mother and father together, along with a link to his memorial song "The Dead Don't Speak, They Listen."
It includes the lyrics: "I would do anything for one conversation with you ... seems like the whole world had more time with you than I did." Sean Lennon was five when his father died.
Ono's earnest Facebook tribute follows a string of memorials she's held in his name in recent years. In New York City's Central Park in October 2015, Ono attempted to break a world record for the largest human peace sign in honor of what would have been Lennon's 75th birthday. She fell short by a few thousand.
The artist also recently shared a viral reaction to the news that Donald Trump had been elected president. It's essentially a highly relatable, blood-boiling shriek followed by a quick, barely audible quip: "That's an awesome quote."
Despite the horror Ono expressed in that scream, it's clear she's dedicated to continue the fight for gun control and peace she has been waging for decades. Lennon most likely would be doing the exact same had not  a troubled man with a gun decided to take the artist's life.