'Pokémon Go' Gen 2 list: 100 new Pokémon revealed in update code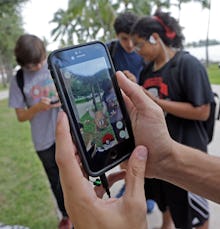 Sick of waiting for Pokémon Go's "Gen 2" update? You may not have to wait much longer.
The Silph Research group has data mined the code for recent Pokémon Go update 0.49.1/1.19.1. The findings are exciting, because they suggest the very close arrival of Gen 2 Pokémon in Pokémon Go.
Pokémon Go Gen 2: Get ready for 100 new Pokemon.
Each species of Pokémon in Pokémon Go has its own audio file for the sound it makes when it cries out. The most important finding from the Silph Research data mine was the addition of 100 new sound files for Pokémon cries. 
Silph Research found sound files for the cries of 251 Pokemon when they analyzed the patch data. Previously, there had only been 151 sound files, which ostensibly covered all the Gen 1 Pokémon. So the addition of 100 new cries might mean 100 new Pokémon. The fact that Niantic's setting up the data now suggests a very close release date for Pokémon Go Gen 2.
Pokémon Go's latest update also hints at gender and shiny variants for Pokémon
It also appears, from analyzing the update data, that Pokémon may soon get gender indicators. Currently, Nidoran is the only creature in Pokémon Go with an assigned gender. The data uncovered by this new analysis could suggest an incoming wider application of gender in Pokémon Go.
Additionally, the analysis suggests that shiny Pokémon, extremely rare versions of Pokémon featured in the "main" Pokémon games that are recolored from their usual scheme, are coming to Pokémon Go. Besides being rare, shiny Pokémon are otherwise exactly the same as normal-colored Pokémon of their species.
Pokémon Go Update: You may be able to beautify your trainer avatar soon.
Silph Research has also declared that the code for Pokémon Go 0.49.1/1.19.1 update includes data related to trainer avatar customization. The report contains no details about new clothing options or anything similar, so what this customization code will actually be used for remains unknown.
You can read about the other odds and ends uncovered from the analysis here. Beware of a spoiler at the bottom of the list, if you decide to delve further into the report.
More Pokémon Go hacks, tips and tricks
If you're already working out your trainer's new color scheme, you may also want to check out Mic's Pokémon Go guides. Here's the new top 10 attackers list and the new top 20 rankings following the balance update, guides on post-update Chansey and Rhydon, everything you need to know about finding the long-awaited Pokémon Ditto, creating new PokéStops, how to maximize your chances of catching Pokémon and fresh information about how PokéStops distribute Pokémon eggs.