'Super Mario Run' Demo Review: First impressions of Nintendo's mobile platformer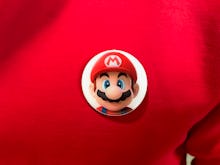 Full Super Mario Run reviews will have to wait until the iPhone and iPad app has officially released, but today the Super Mario Run demo hits iOS devices on display in all Apple Stores. So if there's a store nearby, you can get a sample of what to expect when the Super Mario Run release date arrives on Dec. 15. If not, you'll just have to wait another week.
I ran out this morning to check out the demo for myself. Here's Mic's early Super Mario Run review, based on what you can play so far at the Apple Store.
Super Mario Run pre-review: Gameplay and initial impressions
Those familiar with the endless runner category of mobile games will feel right at home playing Super Mario Run. The game sees Mario run through levels automatically, calling on you to tap the screen to jump when necessary. In some ways, it's both easier and harder than your typical Mario game. 
It's possible the Super Mario Run demo might feel easy because it only features the earliest three levels of the game, but there are some other key differences. For example, Mario veterans will be shocked to find that they can run right through enemy goombas. Mario will automatically hop right over the little brown mushroom-looking opponents, though you can still tap the screen as the plumber evades them for a bonus.
Enemies aside, many of the levels are simple to power through, unlike the games of yesteryear that we were reintroduced to by Nintendo's NES Classic Edition. Historically, 2-D platforming can be brutal — requiring that you play the level at least once and die before you can predict what's about to happen. This is not the case in Super Mario Run. Most casual gamers will be able to start playing on the game's first level 1-1 and find success immediately.
But it isn't all easy. The main interaction point of Super Mario Run is jumping, and timing each jump perfectly is everything. Clearing gaps is one thing, but getting all the right coins is even harder. Knowing exactly when to tap the screen in advance of a pink coin will make or break the bonuses you get. The more coins you snag, the higher your end score. Obtain all five pink coins and you gain access to... another pink-coin arrangement? Oh. We're still figuring that part out.
The Super Mario Run demo in Apple's stores only allow you to play three levels: 1-1, 1-2 and 1-3. The Bowser Castle (level 1-4) is where you fight the boss, and it's available to play for only four seconds. It's worth noting that the entire game is timed, and if you run out of time before grabbing the flag at the end, you fail. Still, most people shouldn't have any trouble beating the first three levels.
Super Mario Run App: How big is the file size?
The app will cost your iPhone a whopping 370MB of storage space; precious storage space if you're on a 16GB device. In advance of Dec. 15, you may want to delete photos and videos from your camera roll and iMessage conversations to free up some space.
The file-size of Super Mario Run could vary between iPhone and iPad, as well as by generation (old iPhone versus new iPhone, for example).
How many levels is Super Mario Run?
The Super Mario Run demo also gives us an idea of what iOS gamers will get for their $9.99. The full game will have six worlds, with four levels each. Each level lasts around 60 seconds and you'll have to complete the level in the allotted time. 
We assume a boss can be found at the end of each level, though that isn't made clear in the demo. We've seen in trailers for the game Mario facing off against Bowser in a format similar to the original games. Perhaps we'll see a different boss or two at the end of Super Mario Run's other levels.
Super Mario Run hits the App Store next week. Make sure to hit Notify on the app in Apple's App Store, and stay tuned to Mic for more details.