'Super Mario Run' Release Date: 10 Android games to play while you wait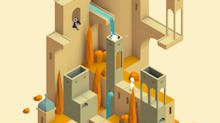 Super Mario Run is headed to Apple devices on Dec. 15, but the game's Android release date is still a mystery. If that news has you looking longingly at your friends' iPhones, don't fret! There's a massive, wonderful catalog of excellent games you can play while you wait for Super Mario Run to land in Google Play. 
Here are 10 of the best games to occupy your time until Super Mario Run's Android release.
'Super Mario Run' Android Release Date: Top 10 games to play now
No. 10: twofold inc.
Though the mechanics of twofold inc. are relatively simple — scrolling rows of colored tiles move back and forth to create continuous, mono-colored paths — what makes it stand out is its clean, simple design.
It has a rich, jewel-tone palette and makes cute R2D2-like beeps and boops as you rack your score up higher and higher.
Price: $3.99
No. 9: Alphabear
If the cat collecting in Neko Atsume is a little too passive for your tastes, check out Alphabear. In lieu of cats, you'll assemble a collection of cute rectangular bears, but as you spell words using the tiles that surround them, they'll grow and morph into different shapes.
It's all very odd, but undeniably charming.
Also, as Kill Screen noted, the little ad-libs-style sentences the bears form using the words you recently spelled are unintentionally hilarious.
Price: Free (with optional in-app purchases)
No. 8: Thomas Was Alone
If you thought an emotional, heart-wrenching story couldn't be told using some hopping rectangles and a soothing British narrator, you'd be wrong.
Thomas Was Alone made quite a splash when it first came out several years ago, mostly because of how unexpectedly deep and thoughtful it is despite looking like a random collection of shapes at first glance.
Price: $4.99
No. 7: Monument Valley
Monument Valley is already pretty popular — you can spot Kevin Spacey playing it in House of Cards — so if you have yet to give it a shot, now's the time.
It's a relatively simple puzzle game in which you guide a princess through surrealist landscapes, but its hypnotizing music and charming art style are what make it such a wonderful experience.
Price: $3.99
No. 6: Ridiculous Fishing
"Fishing" is rarely uttered in the same sentence as words like "fast-paced" and "thrilling," but Ridiculous Fishing aims to infuse the activity with a bit more of both.
Aside from its gorgeous, colorful art style, Ridiculous Fishing has a simple but addictive hook: You have to guide your fishing line deep down into the ocean, avoiding fish along the way, but as soon as you reach the bottom, you have to do the exact opposite. That is, as your hook rushes back to the surface, you have to try to pile on as many fish as possible. 
Once your hook (and the absurdly large bundle of fish attached to it) reach the surface, the fish will burst into the sky from the momentum, at which point you have to shoot as many of them as possible, for some reason.
It's very silly but wonderful.
Price: $2.99
'Super Mario Run' Android Release Date: Top 5 games to play now
No. 5: Fallout Shelter
Fallout Shelter came out in 2015 partly as a way to promote Fallout 4, but it's a solid, charming game on its own.
It's a resource management-style game in which it's your job to keep a community of vault dwellers alive by choosing which types of modules to build and by sending them on reconnaissance missions. But the best part is that it's illustrated in that campy, retro style of the series' mascot, Vault Boy. 
Price: Free (with optional in-app purchases)
No. 4: Hearthstone
If you fancy a bit of tactical, card-based battling, Hearthstone should be the one and only game on your shortlist. It's made by Blizzard, the same company behind games like World of Warcraft and Overwatch. So you can rest assured that its quality is top-notch.
Hearthstone is a game in which you'll battle other players online, but don't be intimidated if you've never played something like it before. Hearthstone has an excellent set of tutorials to help get you up and running, and you'll rarely get matched with someone too far outside your skill level.
Price: Free (with optional in-app purchases)
No. 3: Lara Croft Go
Lara Croft Go has been my favorite mobile game for quite some time, so I take any opportunity I can to make sure other people know about it.
Though it sports Tomb Raider branding, it's not the sort of thrilling action/adventure fare one might expect from the series — it's an incredibly thoughtful, quiet and contemplative puzzle game. My favorite part about Lara Croft Go is that it's smart about teaching you the basic rules but then iterates on them and layers them together in complicated, brilliant ways.
Price: On sale for $.99
No. 2: Limbo
Limbo is often identified as one of the best and most influential indie games of the last decade. If you have yet to give it a shot, the Android version is a great way to experience it.
It's a side-scrolling platformer like an old Super Mario game, but it has a dark, creepy art style and an incredibly morbid sense of humor.
Also, if you happen to own a PS4, PC or Xbox One, the same company that made Limbo — Playdead — came out with an even better game in a similar style called Inside.
Price: $4.99
No. 1: Geometry Wars 3: Dimensions
Since Super Mario Run aims to emulate a console-quality platforming experience on mobile — with a pretty high $9.99 price point to boot — it's only fitting that our number one pick has similar goals in mind.
Geometry Wars 3: Dimensions is the third in a long-beloved series that got its start on the Xbox 360, but has its roots in much older, arcade-style games like Galaga and Asteroids.
You'll pilot a tiny ship around strangely shaped levels, fighting for survival against an ever-increasing swarm of geometry-based enemies. It's fast, exciting, colorful, sharp and loads of fun.
Price: $9.99
More Super Mario Run news, updates, tips and tricks
If you want to know more about Super Mario Run, walk calmly toward's Mic's latest coverage, like information about how and where to play a demo of the game before it comes out and early predictions about how whether its iPhone-first approach is helping or hurting its chances of success,