Critics' Choice Awards 2017: Who is hosting and presenting at the 22nd awards show?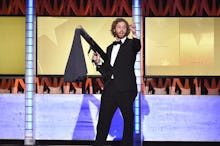 Justin Timberlake and nominees Nicole Kidman and Amy Adams are just a few of the celebrities who will present at the 22nd Critics' Choice Awards. 
Presented by the Broadcast Film Critics Association and the Broadcast Television Journalists Association, the awards show honors movies and TV shows that were critical and commercial hits over the past year. The event, which normally takes place in January, will be held Sunday, Dec. 11 at 8 p.m. Eastern at the Barker Hangar in Santa Monica, CA. 
Who is hosting? 
T.J. Miller, who hosted the 21st annual awards, will return to host again. The comedian was noted for his lighthearted hosting style in 2016, which included a performance with four life-size puppets.
Even before hosting, Miller had made his opinion of awards shows public. In 2015, he won the CCA Best Supporting Actor in a Comedy Series award for his performance on Silicon Valley, and said in his acceptance speech, "I would say that awards are for children because children need a tangible representation of their achievement." Miller said when he was offered the hosting job, he thought it was a joke. 
Who will be presenting? 
Joining Timberlake, Kidman (Lion) and Adams (Arrival) are Kaley Cuoco, Rachel Bloom, Jim Parsons, James Marsden, Bryce Dallas Howard, Lily Collins, Kevin Hart, Leslie Mann, Bella Thorne, Michelle Monaghan, Milo Ventimiglia and Bella Thorne and nominees Ty Burrell (Modern Family), Cuba Gooding Jr. and Sterling K. Brown (The People v. O.J. Simpson: American Crime Story). 
TV shows nominated include The People v. O.J. Simpson: American Crime Story, as well as Unbreakable Kimmy Schmidt and Game of Thrones. 
Meanwhile, La La Land leads in the long list of movies after receiving 12 nominations. Arrival, Moonlight, Fences, Jackie, Manchester by the Sea, Doctor Strange and Captain America: Civil War are among the other titles up for awards this year. 
The nominations are bestowed annually by the Broadcast Film Critics Association and the Broadcast Television Journalist Association. Nominations for TV were made public on Nov. 14, while movie nominations were announced Dec. 1. 
A preview for the Oscars
The Critics' Choice Awards are often considered early predictors for winners at the Academy Awards. Entertainment Weekly reported that in the past 10 years, the CCA best picture winner has taken home the best picture Oscar 8 out of 10 times.