The biggest civil rights moments of 2016 that proved not all was lost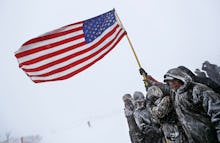 A Republican-controlled Congress and the election of Donald Trump as president have led many who have fought for civil rights to believe that the victories they have attained over the past several decades are now in danger. 
"The big concern around where we are headed as a country is really related to all the vitriol that was said during the election cycle being moved into policy," Judith Browne Dianis, the executive director of civil rights group the Advancement Project told CNN. "The xenophobia, the racism, the sexism, could potentially become part of our laws."
But not all hope is lost. Though 2016 may have been a weird year for all of us, we have witnessed major civil rights benchmarks. Here are some of the best civil rights moments of 2016.  
And these are well-founded concerns. Trump started his presidential campaign by calling immigrants "rapists" while promising to build a wall on the U.S.-Mexico border. He pledged that a national database will be implemented to register Muslims living in the U.S. Furthermore, the appointments of Steve Bannon and Michael Flynn — as well as those of Ben Carson and Jeff Sessions — paint a grim picture. 
1. The Dakota Access pipeline protest
After months of protests and escalating violence, the Standing Rock Sioux tribe and other Dakota Access pipeline activists scored a big victory Dec. 4 when the United States Army Corps of Engineers halted construction of the pipeline. Nearly 2,000 veterans joined the protests in a display of civil resistance. Now, the group of veterans is headed to Flint, Michigan, where the crisis over its contaminated water is far from finished. 
2. Legislation on marijuana use 
Time called the 2016 election "a watershed for weed."  Eight out of nine states voted in favor of marijuana-related measures — four related to medical marijuana and five to recreational use. Ethan Nadelmann, director of the Drug Policy Alliance, said in a press release that "marijuana reform won big across America on Election Day — indeed it's safe to say that no other reform was approved by so many citizens on so many ballots this year." 
3. Sheriff Joe Arpaio loses reelection in Arizona
Arizona's Maricopa Sheriff Joe Arpaio — who has unabashedly supported racial profiling, endorsed Donald Trump, and detained immigrants at his own "concentration camp" — lost his bid for a seventh term. Democracy Now! hailed it as a "victory for immigrants' rights activists." 
4. Sentence reductions for thousands of inmates 
According to CNN, President Barack Obama reduced sentences for 79 inmates this year, thus marking the 1,000th commutation during his term. Though advocates called on President Obama for "more aggressive presidential clemency," he pledged to continue granting commutations until the last day of his presidency. President Obama's total commutations are higher than the previous 11 administrations combined, CNN reported. 
5. Federal inmates will not go to private prisons
The Obama administration announced that the U.S. would begin to phase out the use of for-profit private prisons to incarcerate federal inmates, as Mic previously reported. A report by the Justice Department found that private jails present safety and security problems. Deputy Attorney General Sally Q. Yates wrote in a memo that "private prisons served an important role during a difficult period, but time has shown that they compare poorly to our own Bureau facilities. They simply don't provide the same level of correctional services, programs, and resources." 
As Rev. Cecil L "Chip" Murray wrote in a Los Angeles Times op-ed: "After years of filling cells, we've at least begun to recognize the need for criminal justice reform. We know that privatization of prisons creates incentives to maximize confinement and that punishment needs to be tempered with rehabilitation." 
There is no certainty as to what the next four years will hold for the civil rights movement, but Charles Blow of the New York Times made a strong call to action: "[Trump] is not a person worthy of applause. That is a person who must be placed under unrelenting pressure. Power must be challenged, constantly. That begins today."