How did 'Fuller House' end? Season 1 finale recap before the season 2 premiere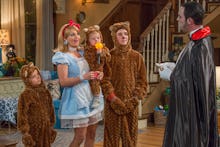 Merely 10 months after the first season premiered, Fuller House season two is hitting Netflix Friday, Dec. 9 at 3 a.m. Eastern.
For those hardcore fans of the Full House reboot, the season one finale may remain fresh on the brain. But for most, unless they've rewatched, it's likely the memory of where we left our heroines (DJ Tanner, sister Stephanie and best friend Kimmy Gibbler) will be fuzzy. Let's get caught up, shall we?
[Editor's note: This article contains spoilers for the Fuller House season one finale.]
The first season ended in a semi-elaborate Bachelorette metaphor in which DJ was pushed to choose between two guys: Steve Hale, DJ's ex from her high school years, and Matt Harmon, a new man in her life. Despite most of the season angling toward this choice, DJ eventually chooses herself, opting to not rush into another relationship so quickly after her husband's death.
Steve and Matt, who spent most of season one as adversaries, found friendship with each other, while DJ found the most fulfilling connection with Stephanie and Kimmy. It was a surprisingly smart story for a show that spent half the time making halfhearted callbacks to the original Full House series.
Season two will almost certainly pick up on the love plot, but we wouldn't mind if DJ continued to avoid choosing between boys. In fact, since this series is obsessed with nostalgia, what if she chose no one in a callback to the original series, like when she didn't choose between two other guys, Viper and Nelson.
If she moves forward loving herself first and foremost, and finding the companionship she needs with her female friends, that would give Fuller House an insightful way forward. We're not getting our hopes up, but we're ready to be pleasantly surprised.
Mic has ongoing Fuller House coverage. Please follow our main Fuller House hub.