Critics' Choice Awards 2017 Livestream: When and where to watch the 22nd annual show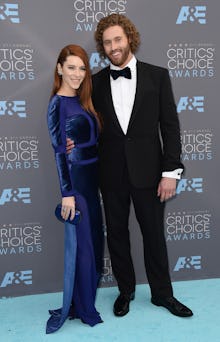 The Critics' Choice Awards have come early this year. The annual award show, which is in its 22nd year, usually airs in mid-January. However, this year the event is shaking things up by airing a month earlier.
When and where to watch the Critics' Choice Awards
The Critics' Choice Awards will air live on A&E on Sunday at 8 p.m. Eastern. For those that don't have access to a TV, the show will also be airing live on A&E's website. Viewers must enter their cable provider login information in order to livestream the event.
If you want to catch the early bird programming, you can tune in to the Critics' Choice Awards Nomination Special at 6 p.m. Eastern and Critics' Choice Red Carpet Live at 7 p.m. Since the show's network, A&E, is partnering with Entertainment Weekly for 2016, viewers will also be able to watch the red carpet special via livestream on EW.com, People.com and PEN, the People/Entertainment Weekly Network. Streaming on PEN is free.
Actor and comedian T.J. Miller of Silicon Valley fame and this holiday season's big movie, Office Christmas Party, will once again host the awards. Miller is a previous Critics' Choice Award winner, though he has previously said that "awards are stupid" .
In the lead with 12 nominations is the film La La Land, which is up for best picture and best original screenplay, among other categories. Arrival and Moonlight are two other notable contenders, with 10 nominations each. HBO leads television with a total of 22 nominations, whereas ABC and Netflix have 14 each.
The Critics' Choice Awards are a set of honors in American and Canadian TV and film that are determined by the Broadcast Film Critics Association and the Broadcast Television Journalists Association.