Is 'Pokémon Go' Down or Not Working? Here's what to do if the servers go down.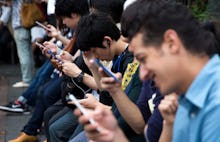 There's not much you can do if Pokémon Go is down or not working. You cannot fix a server outage on your own, so as far as playing again goes, you really have no choice but to be patient and wait for the servers to come back online, and that's the end of it.
Thankfully, you don't have to be in the dark about what's going on while you wait. The Pokémon Go online community has you covered, and you'll know precisely when you can get back to catching Pokémon.
Is Pokémon Go down? Check for server outage updates on Twitter and Facebook.
The Pokémon Go Servers Twitter feed does an excellent job at providing info on server status. It is a third-party account, however. If you only want official updates, you can follow the Pokémon Go App feed instead. If you want to follow another third-party feed, Pokémon Go News also provides updates on server status. 
In the face of Pokémon Go server outages, there are also a handful of official and third-party Facebook accounts that will be helpful in tracking server status. The official Facebook account features a news feed that tracks game updates, and the Pokemon-Go Facebook fan account runs current events updates as well.
Pokémon Go servers down? The best fan sites to learn more
The Silph Road subreddit would be your best website for Pokémon Go server outage status updates. The Silph Road is one of the best Pokémon Go community sites on the web — if not the best. Its Silph Research group provides a bevy of polished infographics and game tools that come in handy for noobs and veteran Pokémon Go players alike.
Pokémon Go also inspired the birth of many third-party analysis tools and mechanics guides. GamePress is one of the best and may run server outage status updates. Finally, the Pokémon GO Hub community can be counted on to report when the servers are back online.
Is Pokémon Go down? Server issues aren't really that common.
The Pokémon Go servers are generally stable. You won't have to worry about outages very often. What you might have to fret over more frequently, however, is how long it can take Niantic to push game patches nationwide. 
When Niantic was testing the new "Nearby" feature, it began in San Francisco, and slowly released the update into further regions. Similarly, major updates may be distributed the same way. Waiting for a patch is much less troublesome that facing a server outage, but it can still be a pain.
More Pokémon Go hacks, tips and tricks
If you're generally concerned with Pokémon Go's server status you may also want to check out Mic's Pokémon Go guides. Here's the new top 10 attackers list and the new top 20 rankings following the balance update, guides on post-update Chansey and Rhydon, everything you need to know about finding the long-awaited Pokémon Ditto, creating new PokéStops, how to maximize your chances of catching Pokémon and fresh information about how PokéStops distribute Pokémon eggs.